October 31, 2014
New research with scalp coolers may prevent chemotherapy-induced hair loss in more patients
the ONA take:
Chemotherapy-induced alopecia occurs in about 65% of patients that receive chemotherapy for cancer treatment, and about 47% of female patients believe hair loss is the most distressing part of chemotherapy.
Now, a new research project is working on improving scalp cooling technology that prevents hair loss, which is likely to benefit patients with cancer who lose their hair as a result of chemotherapy. Paxman Coolers have teamed up with researchers at the University of Huddersfield in Huddersfield, England, to conduct the research.
According to Paxman's managing director, Richard Paxman, the company's current scalp cooling technology can prevent hair loss in 50% of patients, but he hopes their research will improve the technology so that it can prevent chemotherapy-induced hair loss in 80% of patients.
In experiments, hair follicle cells received chemotherapy at different temperature levels. As temperatures decreased, cell survival improved. According to lead researcher Omar Hussain, hair follicle cells die at 37 degrees Celsius, the normal temperature of the body. Although the researchers have not determined the optimal temperature to prevent cell death, they do know that it is below 22 degrees C. Paxman Coolers plan to develop a new scalp cooler by 2016.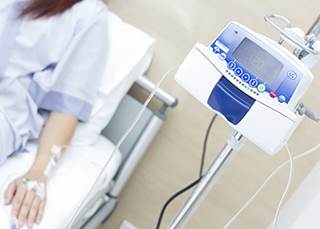 New project is working on improving scalp cooling technology that prevents hair loss in cancer patients.
Cancer sufferers who lose their hair as a consequence of chemotherapy will benefit from a major research project that will improve the scalp cooling technology that prevents hair loss. The research is being now underway and is being pioneered by global scalp cooling manufacturing company, Paxman Coolers, of Fenay Bridge, Huddersfield, in conjunction with the biology department of the University of Huddersfield.
The research will be led by key researcher Omar Hussain, who has a background in the pharmacology of cancer treatment, which he will use towards his PhD. Omar joined Paxman's originally as a researcher on a joint government-sponsored Knowledge Transfer Partnership between the company and the university designed to establish the scientific basis of scalp cooling and its success rate with different drugs.
Sign Up for Free e-newsletters
Regimen and Drug Listings
GET FULL LISTINGS OF TREATMENT Regimens and Drug INFORMATION