August 08, 2014
Ginger as a treatment for breast cancer
the ONA take:
Research published in the Journal of Biomedicine and Biotechnology suggests that ginger may be a promising breast cancer treatment. Researchers discovered an a chemical extract from Zingiber officinale, the medicinal plant ginger, that halted the proliferation of breast cancer cells without affecting normal breast cancer cells. This property, known as selective cytotoxicity, is highly significant.
Despite numerous therapies available, including tamoxifen and other selective estrogen receptor modulators, to fight breast cancer, breast cancer remains the most common type of cancer and the leading cause of death among women. In addition, despite an initial response to chemotherapy, breast cancer cells often survive and form resistance to treatment. About 40% of women treated with tamoxifen and almost all patients with metastatic disease experience relapse that leads to death.
Breast cancer is not the first to be susceptible to ginger; colorectal, liver, lung, pancreatic, skin, and prostate cancers have also been shown to be inhibited by ginger. If proven, ginger would be a low-cost option for cancer treatment when compared to drugs currently on the market.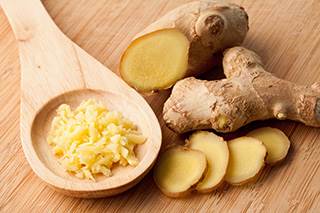 Ginger as a treatment for breast cancer
New research published in the Journal of Biomedicine and Biotechnology found that "ginger may be a promising candidate for the treatment of breast carcinomas." This is a timely finding, insofar as breast cancer awareness month is only days away, and one of the primary fund-raising justifications is the false concept that a low-cost, safe and effective breast cancer treatment is not yet available.
Sign Up for Free e-newsletters
Regimen and Drug Listings
GET FULL LISTINGS OF TREATMENT Regimens and Drug INFORMATION