October 05, 2015
Effect of Patient Navigation on Satisfaction With Cancer-Related Care
the ONA take:
Patient navigation had no statistically significant effect on patients' satisfaction with cancer-related care, a new study published online ahead of print in the journal Supportive Care in Cancer has shown.
Because there have been limited studies assessing the impact of patient navigation on patient outcomes such as satisfaction with care, researchers enrolled 1,788 patients who presented with a symptom or abnormal screening test and 445 patients who had a definitive diagnosis of breast, cervical, colorectal, or prostate cancer from eight Patient Navigator Research Program sites. Participants were assigned to either patient navigation or usual care ± cancer educational materials. In the intervention group, trained patient navigators met with participants to help them evaluate and identify resources to overcome barriers to cancer diagnostic or treatment care.
Results showed that patients reported high satisfaction with diagnostic care and cancer treatment; however, there were no significant differences between the patient navigation and control groups in satisfaction with cancer-related care.
Researchers found that Hispanic and African American participants were less likely to report high satisfaction with cancer care compared with white patients, while middle-age participants with higher education, higher household income, private insurance, their own home, full-time employment, and their primary language being English had higher satisfaction with cancer-related diagnostic care.
"Further research is needed to define the patient populations who might benefit from [patient navigation], content of [patient navigation] that is most useful, and services that might enhance [patient navigation]," the authors conclude.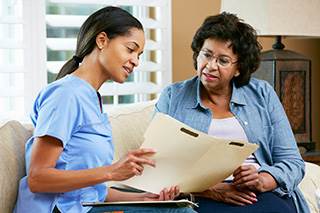 Effect of Patient Navigation on Satisfaction With Cancer-Related Care
Despite growing popularity of patient navigation (PN) as a means to improve cancer care quality and reduce cancer-related disparities, there are few well-designed controlled trials assessing the impact of PN on patient outcomes like satisfaction with care. The present controlled study examined effect of PN on satisfaction with cancer-related care.
Sign Up for Free e-newsletters
Regimen and Drug Listings
GET FULL LISTINGS OF TREATMENT Regimens and Drug INFORMATION