August 20, 2014
Dasatinib may be effective against several cancers
the ONA take:
According to a new study published in the journal Molecular Carcinogenesis, dasatinib (Sprycel) may be effective for the treatment of breast, skin, and various other cancers. Researchers found that dasatinib, a tyrosine kinase inhibitor that targets the Bcr-Abl oncogene, was effective in vitro at inhibiting Fyn, a protein similar to Bcr-Abl.
Fyn is known for being involved cell-cell adhesion and cell migration and is found in brain, breast, head-and-neck, pancreatic, and skin cancers.
Mitchell Dennings, PhD, and his colleagues applied dasatinib to cancer cells in vitro and observed the cells clumping together as well a halt in cell migration. The team found similar results when using breast cancer cells. When administered to mice with skin cancer, dasatinib decreased the quantity and size of their tumors.
Clinical trials are currently underway to study dasatinib's effects in patients with acute lymphoblastic lymphoma, endometrial cancer, gastrointestinal stromal cancer, Hodgkin's lymphoma, melanoma, multiple myeloma, ovarian cancer, pancreatic cancer, and prostate cancer.
Dasatinib was initially approved by the U.S. Food and Drug Administration in 2006 and is indicated for the treatment of patients with Philadelphia chromosome-positive chronic myeloid leukemia and acute lymphoblastic leukemia. It is administered orally once daily.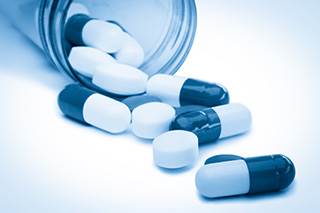 Dasatinib shows promise for treating skin, breast and several other cancers.
A leukemia drug called dasatinib shows promise for treating
skin
,
breast
and several other cancers, according to researchers at Loyola University Chicago Stritch School of Medicine.
Dasatinib fights leukemia by checking the uncontrolled growth of cancer cells. But when used against other cancer cells, researchers found, the drug employs a different strategy: It causes the cells to clump together, thus preventing them from migrating. Without the ability to migrate, cancer cells cannot metastasize (spread to other parts of the body).
Mitchell Denning, PhD, and colleagues discovered the molecular mechanism behind this cell-cell adhesion. The researchers reported their findings in a study published online ahead of print in the journal Molecular Carcinogenesis.
Sign Up for Free e-newsletters
Regimen and Drug Listings
GET FULL LISTINGS OF TREATMENT Regimens and Drug INFORMATION