June 27, 2014
Daily aspirin may ward off pancreatic cancer
the ONA take:
Daily intake of one low-dose aspirin over several years may be enough to lower your pancreatic cancer risk, according to a new study. The report supporting this conclusion was published online in the published online in the Cancer Epidemiology, Biomarkers & Prevention journal.

The researchers, led by lead researcher Dr. Harvey Risch, gathered data from 362 people diagnosed with pancreatic cancer and 690 with no history of pancreatic cancer. The cases observed spanned a four-year period from 2005 through 2009 and respondents were recruited from 30 Connecticut hospitals. Factors considered including when the patient began taking aspirin, history of diabetes (if any), smoking history (if any), and patient weight. For purposes of this study, a "low dose" of aspirin was quantified as anywhere from 75 milligrams to 325 milligrams. The observed reduction in pancreatic cancer risk varied, but increased the longer an individual respondent had been regularly taking aspirin; a 48-percent reduction was observed in individuals taking aspirin regularly for three years before the study, and the reduction grew to 60% for those taking aspirin for 20 years or more.

At this time the American Cancer Society has cautioned that evidence as to the cancer-preventive attributes of aspirin is limited. Although there is some connection between long-term aspirin use and lower risk of colorectal cancer, the Society does not feel current research data supports an recommendation for people to take aspirin daily for cancer prevention alone.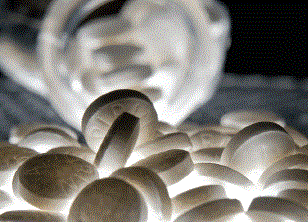 Aspirin and/or NSAID use may improve risk of high-grade prostate cancer
People who take low-dose aspirin for more than 10 years might be reducing their risk for pancreatic cancer, a new study suggests.
Even taking a daily aspirin for just three years lowered the chances of the deadly cancer by 48 percent, the researchers said.
Sign Up for Free e-newsletters
Regimen and Drug Listings
GET FULL LISTINGS OF TREATMENT Regimens and Drug INFORMATION