January 23, 2015
Colorectal cancer incidence is increasing among young adults
the ONA take:
Screening efforts have resulted in an overall decrease in incidence of colorectal cancer (CRC). However, incidence of the disease in young adults (ages 20-39 years) has increased in the past 20 to 30 years.
Little is known about CRC incidence in young adults because recommended screening for people of average risk person begins at age 50 years. Researchers at the University of California, Irvine, analyzed 231,544 CRC cases from 1988-2009 from the California Cancer Registry to identify high-risk subgroups.
Their study cases included 5,617 young adults ages 20-39 years. Although the absolute incidence of CRC per 100,000 in this group was low, the researchers found CRC incidence increasing over time among both males and females, particularly for distal colon cancer in Hispanic females ages 20-29 years.
The researchers conclude that absolute incidence of CRC is significantly lower in among the young adult populations; however, incidence is increasing among young adults compared with the older screened population. They also note a need for further research to better characterize young adults at increased risk for CRC.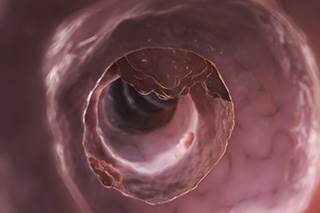 Incidence of colorectal cancer in young adults has increased in the past 20 to 30 years.
The incidence of
colorectal cancer (CRC)
among young adults ages 20-39 years has increased during the past 20-30 years, despite declining rates of CRC for the U.S. population overall. This surprising new finding, an analysis of how CRC incidence varies based on race and gender, and differences in tumor location, for young adults compared to the general population are presented in Journal of Adolescent and Young Adult Oncology (JAYAO).
Sign Up for Free e-newsletters
Regimen and Drug Listings
GET FULL LISTINGS OF TREATMENT Regimens and Drug INFORMATION