July 29, 2014
A 'universal' blood test for cancer found?
the ONA take:
A potential blood test for diagnosing cancer may have been found. Researchers from the University of Bradford (England), led by Diana Anderson, from the University's School of Life Sciences, have developed a method of blood testing that has shown a high rate of success when used for patients with melanoma, colon cancer and lung cancer.
The investigators examined blood samples taken from 208 individuals; 94 samples were taken from cancer-free individuals (some from staff) and 114 were taken from individuals that had previously been referred to specialist clinics within Bradford Royal Infirmary before treatment. The samples, after being code labeled and randomized, were exposed to UVA light through five different depths of agar. A Lymphocyte Genome Sensitivity (LGS) test revealed the damage to DNA of white blood cells. Damage caused by the UVA light was determined by DNA particles moving toward the positive end of an electric field in a "tail" shape. Longer tails indicated more DNA damage. The results correlated to the patients who were ultimately diagnosed with cancer, as well as matching well to those categorized as healthy or with pre-cancerous conditions. A clear distinction in DNA damage was seen between the three categories.
Professor Anderson feels the LGS test could prove to be a powerful diagnostic tool. Additional research with larger samples sizes could help establish the viability of this method.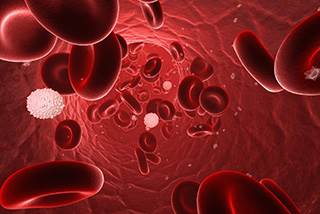 A 'universal' blood test for cancer found?
Researchers from the University of Bradford, UK, have devised a simple blood test that can be used to diagnose whether people have cancer or not.
The test will enable doctors to rule out cancer in patients presenting with certain symptoms, saving time and preventing costly and unnecessary invasive procedures such as colonoscopies and biopsies being carried out. Alternatively, it could be a useful aid for investigating patients who are suspected of having a cancer that is currently hard to diagnose.
Sign Up for Free e-newsletters
Regimen and Drug Listings
GET FULL LISTINGS OF TREATMENT Regimens and Drug INFORMATION