September 20, 2016
Robotic Surgery Provides Good Outcomes and Survival in Oropharyngeal Cancer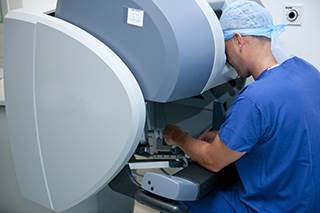 Robotic Surgery Provides Good Outcomes and Survival in Oropharyngeal Cancer
Transoral robotic surgery (TORS) with or without radiation therapy or chemotherapy is an effective treatment option for patients with oropharyngeal cancer regardless of their p16 status, according to a study presented at the 2016 annual meeting of the American Academy of Otolaryngology – Head and Neck Surgery.1,2
Traditional surgical approaches to cancers of the oral cavity and throat involve a large incision and long recovery with significant pain and disfigurement; however, TORS offers patients with cancers of the base of the tongue, tonsils, soft palate, and pharynx good outcomes and survival without the pain and disfigurement.
TORS is performed using the da Vinci Surgical System. The arms of the da Vinci access and remove the tumor through the mouth, sparing the patient visible scarring and preserving speech and the ability to eat.
In this study, researchers at Henry Ford Hospital in Detroit, Michigan, sought to evaluate the effectiveness of TORS in patients with oropharyngeal cancer, including 3-year survival and cancer control and metastasis. They also investigated the effect of p16 status on these variables.
The researchers noted that p16 positive throat cancers (human papillomavirus [HPV]-related throat cancers) were shown to have better survival and less recurrence than p16 negative throat cancers in several studies.
For this study, results for 53 patients with oropharyngeal cancer treated at Henry Ford Hospital were analyzed. Of the patients, 83% were male, 77% were white, and mean age was 60.8 years. Therapy modalities included TORS alone (37%), TORS with radiation therapy (11.4%), and chemotherapy and radiation therapy (50%).
Of the patients with p16 negative disease who underwent TORS as first-line treatment or TORS followed by chemotherapy or radiotherapy, survival rate was 100% with low cancer recurrence (81% of patients had p16 positive disease); 63% of patients who underwent TORS were able to receive a lower dose of radiotherapy, reducing their risk of radiation side effects.
Although these results are not strong enough to influence clinical practice, the study demonstrates that TORS with or without radiation therapy or chemotherapy is a viable treatment option for patients with oropharyngeal cancer regardless of their p16 status, the researchers concluded.
Reference
1. Ghanem T, Olden H, Abrol A, Chang S, Hall F, Williams AM. TORS treated oropharyngeal cancers: is p16 status significant? Oral presentation at: 2016 Annual Meeting of the American Academy of Otolaryngology – Head and Neck Surgery Foundation; September 18-21, 2016; San Diego, CA.
2. Study: incisionless robotic surgery offers promising outcomes for oropharyngeal cancer patients [news release]. September 16, 2016. http://www.newswise.com/articles/view/660949/?sc=mwhr&xy=10011231. Accessed September 20, 2016.