September 07, 2018
Reversible Posterior Leukoencephalopathy Syndrome Induced by Apatinib: A Case Report and Literature Review
the ONA take:
Reversible posterior leukoencephalopathy syndrome (RPLS) is a rare condition characterized by a rapid onset of symptoms including headache, hypertension, seizures, altered consciousness, and visual disturbances. RPLS has been associated with certain chemotherapeutic and antiangiogenic agents.
A case study published in OncoTargets and Therapypresents the case of a 47-year-old female patient who was treated for breast cancer 5 years prior. Poorly differentiated squamous cell carcinoma of the cervix was diagnosed, and the patient began treatment with intensity-modulated radiation therapy (IMRT), and upon disease progression, apatinib, a VEGFR-2 tyrosine kinase inhibitor, was initiated at 500 mg daily.
After 3 months of treatment, the patient developed neurologic symptoms and a brain magnetic resonance imaging (MRI) scan suggested potential RPLS. On discontinuing apatinib and administering symptomatic treatment for hypotension and dehydration, symptoms significantly improved and apatinib was resumed.
In this review, the authors present this patient case in depth and review the current literature for RPLS.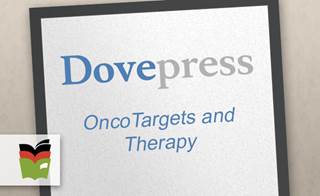 OncoTargets and Therapy
Abstract: Reversible posterior leukoencephalopathy syndrome (RPLS) is a rare clinical-radiologic syndrome. There are reports that RPLS may be associated with cancer therapy including some chemotherapy drugs and antiangiogenic drugs. This paper reported a case of RPLS induced by apatinib, a vascular endothelial growth factor receptor 2 (VEGFR-2) tyrosine kinase inhibitor. A 47-year-old cervical cancer patient was administered apatinib, and 3 months later, headache, dizziness, blurred vision, and hypertension appeared. She was diagnosed with RPLS by nuclear magnetic resonance imaging (MRI). After apatinib discontinuation and normotensive treatment, her symptoms completely reversed. Antiangiogenic drugs potentially damage the balance of the blood–brain barrier by directly injuring vascular endothelial cells, resulting in the occurrence of RPLS. This case is the first report of RPLS induced by apatinib.
---
Keywords:
reversible posterior leukoencephalopathy syndrome, apatinib, antiangiogenesis, targeted therapy
---
CASE DATA
A 47-year-old female patient visited the Second Affiliated Hospital of Qingdao University due to abnormal vaginal bleeding, in May 2016. She was diagnosed with poorly differentiated squamous cell carcinoma of the cervix, based on a gynecological examination and pathological biopsy. Positron emission tomography/computed tomography (PET/CT) revealed cervical cancer that extended into the vagina, uterus and bladder, with right inguinal lymph node metastasis, left external iliac vessel lymph node metastasis, lung multiple metastasis, sacral vertebral metastasis, and bilateral pleural effusion. Given that the patient had a history of left breast cancer, she received pulmonary puncture guided by CT. The pathology results of the biopsy revealed poorly differentiated carcinoma that was consistent with squamous cell carcinoma, based on immunohistochemistry. Therefore, the lung metastasis was considered to originate from cervical cancer. The patient was diagnosed with cervical squamous cell carcinoma (cT4N1M1, IV stage, according by National Comprehensive Cancer Network guidelines). A physical examination revealed an Eastern Cooperative Oncology Group (ECOG) score of 1. The left breast was absent, and the left chest wall showed postoperative changes. The vulva was normal, the vagina was clear, the cervix was seen with a cauliflower-like mass with a diameter ~5 cm, contact bleeding, the anterior fornix uteri disappeared. No positive signs were noted in other system.
Five years earlier, the patient received resection of the left breast due to breast cancer, and received six cycles of chemotherapy; she then took toremifene for 5 years.