May 17, 2018
New Pharmacy Regulations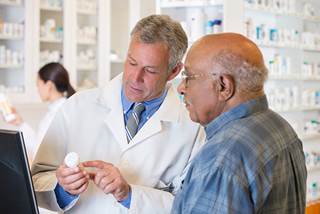 A patient discusses a new oral medication regimen.
The United States Pharmacopeia (USP) <800> regulations are related to the safe handling of hazardous drugs.1These standards were developed to protect healthcare workers from hazardous drug exposure and to minimize the risks of these to public health by ensuring a quality healthcare environment.
Hazardous drugs are classified as such by the National Institute for Occupational Safety and Health (NIOSH) based on predefined criteria, and include many medications administered by oncology nurses. Some components of USP <800> that may affect oncology nurses include:
Maintaining a facility list of hazardous medications;
Use of personal protective equipment by staff involved in every aspect of hazardous drug use, including storage, compounding, administration, spill control, and other aspects of use;
Personnel training and communication;
Recommendations for staff administering these drugs to reduce exposure; and
Cleaning, decontaminating, and disinfecting.
Affected facilities are expected to be compliant with USP <800> by December 2019,2so you will likely hear much more on this subject over the next several months if you have not already.

REFERENCES

1. USP General Chapter <800> hazardous drugs – handling in healthcare settings. http://www.usp.org/compounding/general-chapter-hazardous-drugs-handling-healthcare. Accessed May 11, 2018.

2. FAQs: <800> hazardous drugs – handling in healthcare settings. http://www.usp.org/frequently-asked-questions/hazardous-drugs-handling-healthcare-settings. Last updated November 3, 2017. Accessed May 11, 2018