February 20, 2017
Metronomic Chemotherapy: Improved Tumor Blood Supply Leads to Better Treatment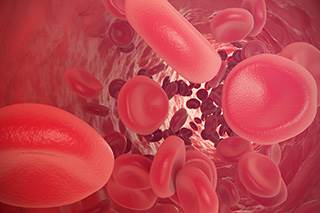 A team of researchers has determined that normalization of the blood vessels surrounding a tumor is important to metronomic chemotherapy.
A new approach to chemotherapy, called metronomic chemotherapy, involves the frequent administration of lower dosage levels than typically used and results in both the direct killing of cancer cells by chemotherapy drugs and the activation of the immune system. The underlying mechanisms of metronomic chemotherapy have been elusive until now.1
In a paper published in PNAS, a collaborative team of researchers from Massachusetts General Hospital, the University of Cyprus, and Bucknell University determined that the success of metronomic chemotherapy in cancer treatment is dependent on the normalization of the blood vessels surrounding a tumor.
Previous studies have suggested a number of conflicting potential underlying mechanisms. The researchers from this study developed a mathematical model based on all published data and accounted for the complex interactions among cancer cells, immune cells, and tumor blood vessels.
In a preliminary analysis of the model, the researchers simulated the growth of a mouse tumor over 30 days with weekly chemotherapy treatment and discerned that relieving the abnormal structure and function of tumor blood vessels was essential to metronomic chemotherapy. Drug delivery to the observed cancer cells would increase with the improvement of the vascular network through thrombospondin-1 expression. Furthermore, increased oxygen to the tumor environment would stimulate immune cell activity and decrease the production of chemotherapy resistant stem-like cancer cells.
According to Rakesh K. Jain, PhD, director of the Steele Laboratories of Tumor Biology in the MGH Radiation Oncology Department, and co-corresponding author of the report, "The most important conclusion is that better treatment outcome depends on the improvement of a tumor's blood supply through vascular normalization — something that can be measured throughout a course of treatment through MR or ultra-CT imaging to allow patient-specific dosage and scheduling."
Reference
1. Mpekris F, Baish JW, Stylianopoulos T, Jain RK. Role of vascular normalization in benefit from metronomic chemotherapy. PNAS. 2017 Feb 7. doi:10.1073/pnas.1700340114 [Epub ahead of print]