Dermatology
Granulomatous Rosacea (Granulomatous Facial Dermatitis, Lupoid Rosacea)
Are You Confident of the Diagnosis?
What you should be alert for in the history
Patients may or may not have a history of rosacea; it is controversial as to whether this is a variant of rosacea or a separate entity.
Characteristic findings on physical examination
On physical exam, there is usually no persistent facial erythema and the eruption is not limited to convex surfaces; yellow, brown, red, or flesh-colored monomorphic firm papules or nodules occur on the face, often periorificial (around the eyes, nose, and mouth) (Figure 1). They can be on the lateral sides of the face and on the neck. Symmetry may be prominent. Extrafacial lesions on the ears, trunk, axillae, or extremities can be seen.
Figure 1.
Granulomatous rosacea.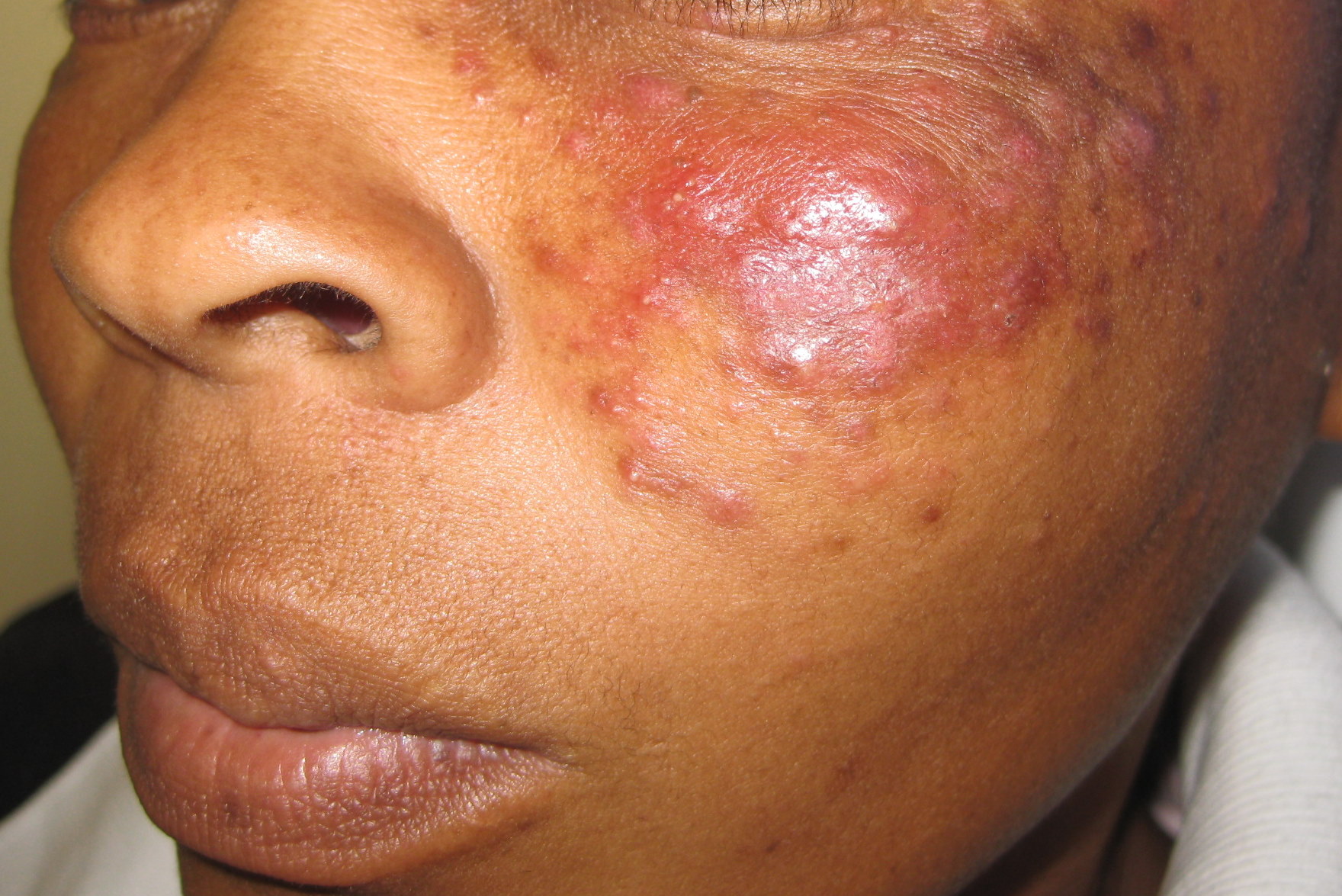 Expected results of diagnostic studies
Histopathology shows granulomatous inflammation; about 10% will show caseating necrosis. Histopathology may resemble sarcoidosis, lupus miliaris disseminatus faciei, or mycobacterial infection (Figure 2).
Figure 2.
Granulomatous rosacea histology (Courtesy of Bryan Anderson, MD).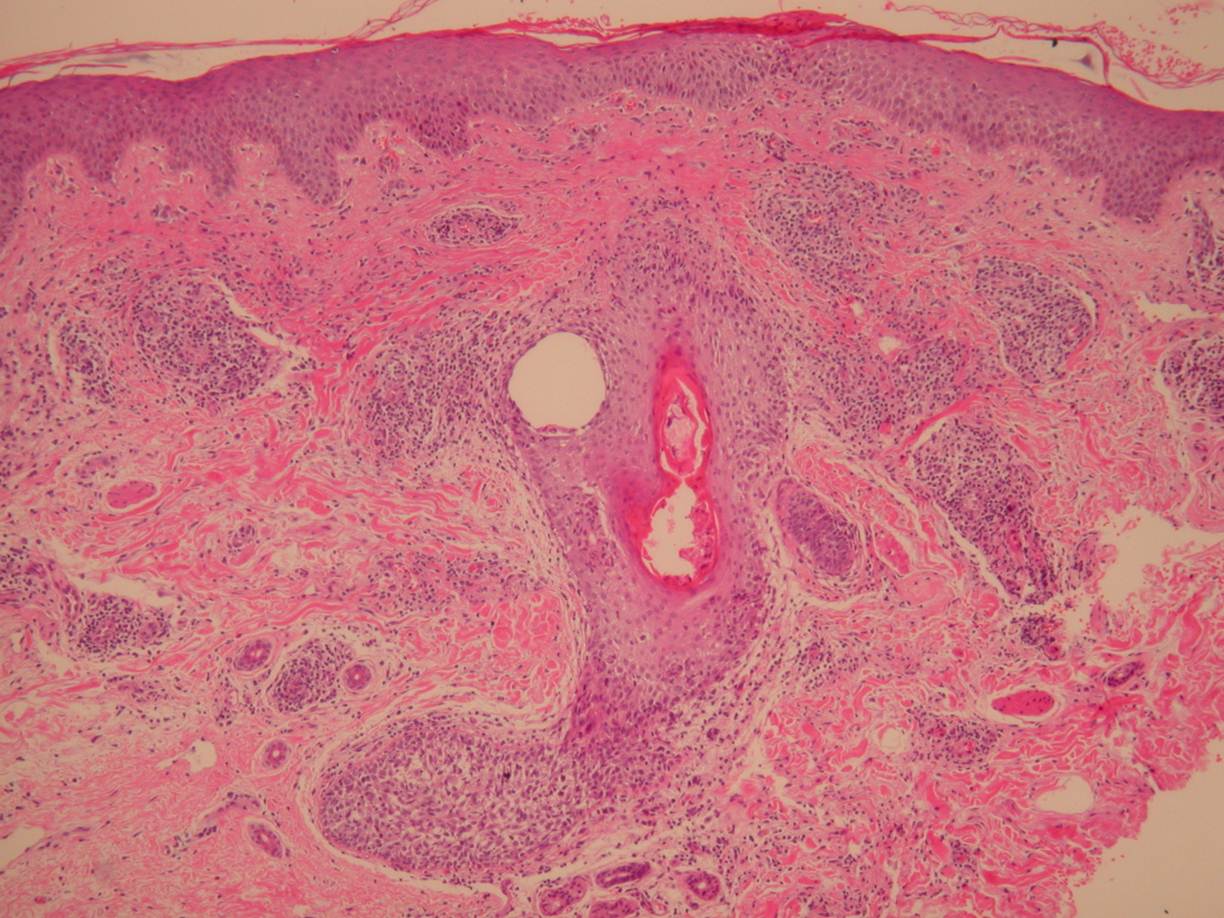 Diagnosis confirmation
Diagnosis is confirmed by the clinical appearance and supportive histopathology. If tuberculosis is considered, tissue culture should be done; the patient should not have clinical evidence of sarcoidosis or tuberculosis. Demodex folliculitis typically presents with small follicular-based pustules. A scrapping of the pustule and microscopic examination will show multiple demodex mites.
Who is at Risk for Developing this Disease?
It is unclear whether there are particular risk factors for developing granulomatous rosacea. It appears to be more common in adult females.
What is the Cause of the Disease?
Etiology and pathogenesis is unknown. It has been suggested that demodex mites may trigger an antigenic response leading to granuloma formation. Ultraviolet radiation while inducing sun damage has been thought to lead to increased matrix metalloproteinase (MMP)-2 and MMP-9 which recruits inflammatory cells during the remodeling process and may lead to granuloma formation. The disease may be seen in association with H. pylori infections, however, this has not been substantiated. Also, there may be an association with granulomatous rosacea and Crohn's disease. This may be due to NOD2/CARD15 gene mutations or polymorphisms. Further research is needed to determine if it is a true association.
Systemic Implications and Complications
Granulomatous rosacea is not definitively associated with any systemic disorders.
Evaluation of the patient with suspected granulomatous rosacea should include a skin biopsy, screening history, and review of symptoms for sarcoidosis and tuberculosis, and a purified protein derivative (PPD) or QuantiFERON®-TB Gold test. A tissue culture for mycobacteria may be done, if there is concern about a mycobacterial infection.
Treatment Options
Treatment is difficult as the disease often proves recalcitrant. There is little supporting data; treatment options are based on case reports, case series, and expert opinion.
Medical
Topical
Azelaic acid

Benzoyl peroxide

Low potency topical corticosteroids

Metronidazole

Pimecrolimus 1% cream

Sunscreen and sun protection
Systemic
S ystemic tetracyclines (tetracycline 250 mg daily to 500 mg twice daily; minocycline 50-100 mg twice daily; doxycycline 50-100 mg twice daily)

Erythromycin 500 mg two to four times daily

Long-term, low-dose isotretinoin (5-10 mg/day) can be used for patients with more severe symptoms

Systemic corticosteroids

Dapsone

Thalidomide
Surgical
Mechanical dermabrasion, laser resurfacing, or shave removal of individual lesions may improve the appearance, but there is little evidential support for these methods.

Photodynamic therapy with aminolevulinic acid

Pulsed dye laser
Optimal Therapeutic Approach for this Disease
Therapy should begin with a trial of oral antibiotics for 2-4 months. If the patient fails to improve or worsens, long-term, low-dose isotretinoin should be considered.
Topicals are helpful for mild disease or as an adjuvant.
Surgical options should be considered only after medical options have failed, or when targeted at a single lesion or small treatment area.
Patient Management
The patient should be brought back for follow up in 2-4 months for follow-up if therapy is initiated. Isotretinoin use will require more frequent monitoring and blood work.
It is important to educate the patient that this disease can be recalcitrant to therapy.
Evaluation of the patient with suspected granulomatous rosacea should include a skin biopsy, screening history, review of symptoms for sarcoidosis and tuberculosis, and a purified protein derivative (PPD) test or QuantiFERON®-TB Gold test. Tissue culture for mycobacteria may be done, if there is concern about a mycobacterial infection.
Unusual Clinical Scenarios to Consider in Patient Management
Granulomatous rosacea is rarely diagnosed in childhood. It may be seen more frequently in immunosuppressed individuals.
BaglieriFScuderiG. Treatment of recalcitrant granulomatous rosacea with ALA-PDT: report of a case. Indian J Dermatol Venereol Leprol2011 Jul-Aug;77(4):536.

(Case report of a 50-year-old man with granulomatous rosacea treated with ALA-PDT: 6 sessions at 2 week intervals.)
CrawfordGHPelleMTJamesWD. Rosacea I. Etiology, pathogenesis, and subtype classification. J Am Acad Dermatol2004;51:327-41.

(A summary of the subtypes of rosacea, with a separate section focused on granulomatous rosacea and how it differs from rosacea.)
KhokharOKhachemouneA. A case of granulomatous rosacea: sorting granulomatous rosacea from other granulomatous diseases that affect the face. Dermatol Online. Available at: http://dermatology.cdlib.org. Accessed in January 2004.

(Case report and review of the clinical differential of granulomatous rosacea.)
LeeGLZirwasMJ. Granulomatous Rosacea and Periorificial Dermatitis: Controversies and Review of Management and Treatment. Dermatol Clin. 2015 Jul;33(3):447-55.

(Review of the etiopathogenesis, clinical presentation and treatment options for granulomatous rosacea and periorificial dermatitis.)
QianGLiuTZhouCZhangY. Successful treatment of recalcitrant granulomatous rosacea with oral thalidomide and topical pimecrolimus. J Dermatol. 2015 May;42(5):539-40.

(Case report of a 40-year-old women with recalcitrant granulomatous rosacea who responded to pimecrolimus 1% cream and oral thalidomide: 150 mg daily for 1 month, then tapered to 100 mg/day for 1 month, then 50mg/day for 2 months.)
SanchezJLBerlingeri-RamosACDuenoDV. Granulomatous rosacea. Am J Dermatopathol2008;30:6-9.

(An analysis of the histopathologic features of granulomatous rosacea.)
Van StesnselMAMBadeloeSWinnepennickxV et al. Granulomatous rosacea and Crohn's disease in a patient homozygous for the Crohn-associated NOD2/CARD15 polymorphism R702W. Exp Dermatol2008;17:1057.

(Case report of a patient with both Crohn's disease and granulomatous rosacea found to be homozygous for R702W. The authors suggest that granulomatous rosacea is a variant of Crohn's disease.
No sponsor or advertiser has participated in, approved or paid for the content provided by Decision Support in Medicine LLC. The Licensed Content is the property of and copyrighted by DSM.
Sign Up for Free e-newsletters
Regimen and Drug Listings
GET FULL LISTINGS OF TREATMENT Regimens and Drug INFORMATION