May 07, 2014
Low vitamin D linked to increased cancer risk in IBD
This article originally appeared
here.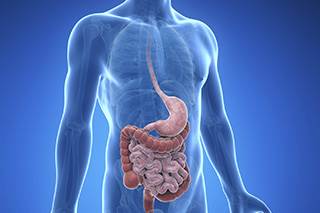 Low vitamin D linked to increased cancer risk in IBD
(HealthDay News) -- Low plasma levels of 25-hydroxyvitamin D (25[OH]D) are associated with an increased risk of cancer in patients with inflammatory bowel diseases (IBD), according to a study published in the May issue of Clinical Gastroenterology and Hepatology.
Ashwin N. Ananthakrishnan, M.B.B.S., from Massachusetts General Hospital in Boston, and colleagues examined the correlation between plasma level of 25(OH)D and risk of cancer in 2,809 patients with IBD. Participants from a multi-institutional cohort had at least one measurement of plasma 25(OH)D.
The researchers found that the median 25(OH)D plasma level was 26 ng/mL, with nearly one-third of patients having deficient levels of vitamin D (<20 ng/mL). One hundred ninety-six patients (7 percent) developed cancer (excluding nonmelanoma skin cancer) during a median follow-up period of 11 years, with 41 cases of colorectal cancer. Compared to those with sufficient vitamin D levels, those with vitamin D deficiency had an increased risk of cancer (adjusted odds ratio, 1.82). There was an 8 percent reduction in the risk of colorectal cancer for each 1-ng/mL increase in plasma 25(OH)D (odds ratio, 0.92). For lung cancer a weaker inverse association was identified.
"In a large multi-institutional IBD cohort, a low plasma level of 25(OH)D was associated with an increased risk of cancer, especially colorectal cancer," the authors write.