August 31, 2016
Increasing Dietary Omega-3 Intake After Colorectal Cancer Diagnosis Improves Survival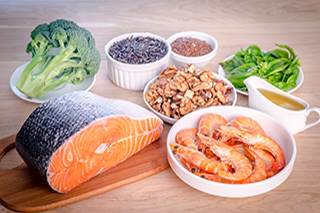 Increasing Dietary Omega-3 Intake After Colorectal Cancer Diagnosis Improves Survival
Colorectal cancer is the second most prevalent form of cancer and the third leading cause of death by cancer in the United States. The disease was diagnosed in more than 1.2 million people, and in 2015, approximately 49,700 deaths were attributed to it. However, because of advances in diagnosis and treatment, almost 65% of patients with colorectal cancer live more than 5 years, and more than 58.3% live more than 10 years.1
Although many studies point to lifestyle and dietary practices that affect the risk for colorectal cancer, none address survival. For many people living with colorectal cancer, this represents a significant void. They would want to know: If lifestyle and dietary factors can affect their risk of developing colorectal cancer, what, if any, lifestyle or dietary changes can influence survival for those who already have the disease?
New Benefits of Omega-3 PUFAs
Recently published research demonstrated that the marine omega-3 polyunsaturated fatty acids (PUFAs) eicosapentaenoic acid (EPA), docosahexaenoic acid (DHA), and docosapentaenoic acid (DPA), inhibit blood supply to colorectal cancer cells, thus suppressing tumor growth and angiogenesis. In addition, some reports suggest that taking omega-3 PUFA supplements can increase the antitumor activity of some chemotherapy agents used to treat colorectal cancer. Omega-3 PUFAs also decrease the cachexia caused by cancer; patients taking PUFA supplements eat better and experience less anorexia and weight loss.
A team of researchers at Massachusetts General Hospital, Harvard, MIT, and Dana-Farber Cancer Institute studied the association between consumption of marine omega-3 PUFAs and survival for patients with colorectal cancer. The researchers reviewed 2 prospective cohorts: the Nurses' Health Study (NHS), which compiled data on 121,700 female nurses ages 30 to 55 years in 1976, and the Health Professionals Follow Up Study (HPFS), which collected data on 51,529 male health professionals ages 40 to 75 years in 1986. The goal was to evaluate whether increasing consumption of marine omega-3 PUFAs improved survival for patients with colorectal cancer after diagnosis. Thus, from the health and dietary data on 173,229 health professionals, the investigators focused on 1659 patients who developed colorectal cancer.1