January 13, 2016
CT Colonography and FIT Yield Different Participation and Detection Rates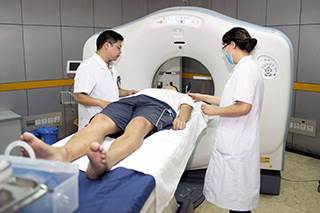 CT Colonography and FIT Yield Different Participation and Detection Rates
Computed tomography (CT) colonography with reduced preparation had increased participation compared with full cathartic preparation CT colonography, and detection rates were approximately 3 times higher for CT colonography compared with the fecal immunochemical test (FIT). These findings were published in the Journal of the National Cancer Institute (doi:10.1093/jnci/djv319).
The study sought to address the question of what is the ideal screening method for colorectal cancer (CRC), the third most diagnosed cancer in the world. The study was led by Lapo Sali, MD, PhD, of the Department of Biomedical, Experimental and Clinical Sciences 'Mario Serio', University of Florence, Italy.
The research team reviewed data from a single-center, randomized, controlled screening trial in Florence, Italy. The trial included 16 087 patient participants age 54 to 65 years in four parallel groups: biennial fecal immunochemical test (FIT) for 3 rounds, reduced-preparation CT colonography, full cathartic-preparation CT colonography, and optical colonoscopy.
Participation was different across the 4 screening methods (50.4% for first-round FIT, 28.1% for reduced-preparation CT colonography, 25.2%, for full-preparation CT colonography, and 14.8% for optical colonoscopy), but detection rates of advanced neoplasia were different only between FIT and CT colonography groups (1.7%, first-round FIT; 5.5%, reduced preparation CT colonoscopy; 4.9%, full-preparation CT colonoscopy; and 7.2%, optical colonoscopy).
"The combination of lower attendance and higher DR [detection rate] of screening CT colonography as compared with FIT are key factors for the optimization of its role in population screening of CRC [colorectal cancer]," concluded the researchers regarding CT colonography.
An accompanying editorial (doi:10.1093/jnci/djv383) noted that first-round FIT can perform equally with CT colonography, depending on what cut-off is used. The commentators, Ernst J. Kuipers, MD, PhD, and Manon C. W. Spaander, MD, PhD, Department of Gastroenterology and Hepatology, Erasmus University Medical Center in the Netherlands, stated that the study supports the use of FIT as the standard for primary assessment in programs of organized population screening for colorectal cancer.
"The true impact of FIT screening is achieved by repeated rounds," stated the commentators.
Because of the differences in the colorectal cancer screening methods, no one test or program design makes one screening method better than the other; however, follow-up to these screening tests is essential, explained the commentators.