September 17, 2014
Urine test may identify human papillomavirus accurately
the ONA take:
According to a new study published in The BMJ, researchers say a urine screening may be accurate at identifying human papillomavirus (HPV). In the study, researchers analyzed 14 studies that tested both the Papanicolaou (Pap) smear test and a urine test to test for HPV in nearly 1,500 sexually active women.

The researchers found that the sensitivity of urine HPV screening was 87% on average and specificity was 94% versus a Pap smear. When researchers only looked at identifying HPV types 16 and 18, the strains that cause cervical cancer and which Gardasil protects against, sensitivity was 73% while specificity was 98%. Researchers note that urine HPV testing accuracy improved when a patient's first-void, first urine sample of the day, was used.

The researchers suggest that urine testing for HPV may be an acceptable alternative to a Pap smear, especially for those who require increased coverage for subgroups that are difficult to reach; however, they also note that there was variation between individual studies, and therefore, the results should be interpreted with caution. Further studies are warranted before urine testing for HPV should be recommended in the clinical setting.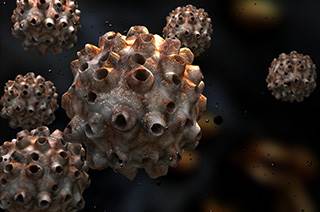 Researchers say a urine screening may be accurate at identifying HPV.
The most common screening method for human papillomavirus (HPV) is a Papanicolaou (Pap) test, also known as a smear test. This involves a doctor or nurse scraping cells from the opening of a woman's cervix, before sending them to a laboratory to be analyzed for abnormalities.
The American Cancer Society claim that between 1955 and 1992, death rates from cervical cancer fell by almost 70% due to increased Pap testing. But despite this success, screening uptake in recent years has been low.
Sign Up for Free e-newsletters
Regimen and Drug Listings
GET FULL LISTINGS OF TREATMENT Regimens and Drug INFORMATION