December 10, 2015
Ten-year Overall Survival Is Higher After Breast-conserving Therapy Compared With Mastectomy in Early Stage Breast Cancer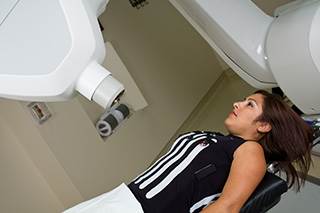 Ten-year Overall Survival Is Higher After Breast-conserving Therapy Compared With Mastectomy in Early Stage Breast Cancer
SAN ANTONIO, TX—Breast-conserving surgery with radiation therapy (BCT) demonstrated improved 10-year overall survival in patients with early stage breast cancer compared with mastectomy without radiation therapy, according to data presented at the 2015 San Antonio Breast Cancer Symposium.1
Randomized controlled trials have shown equal survival rates for BCT and mastectomy; however, recent observational studies have suggested that BCT confers better survival than mastectomy. Researchers at the Netherlands Comprehensive Cancer Organisation, Utrecht, the Netherlands, sought to determine whether there was a difference in the overall survival (OS) and disease-free survival (DFS) outcomes following BCT and mastectomy. Using the Netherlands Cancer Registry, their study population included data from 37,207 women with early stage breast cancer diagnosed between 2000 and 2004 to estimate 10-year OS, and data from a subcohort of 7,552 patients with the same distributions of characteristics as the entire cohort with diagnoses in 2003 was used to estimate 10-year DFS.
Approximately 58% and 62% of the patients from the total cohort and subcohort, respectively, underwent BCT; the remaining patients underwent mastectomy. Patients from the total cohort who underwent BCT had a 10-year OS of 76.8%, vs. 59.7% for those who underwent mastectomy. Patients from the BCT subcohort had a 10-year DFS of 83.6%, vs. 81.5% for those who underwent mastectomy.
After adjusting for confounding factors, patients who underwent BCT were estimated to be 21% more likely to be alive after 10 years than those who underwent mastectomy. The researchers also found that there was no significant difference in DFS between those in the BCT group and those in the mastectomy group. These findings were similar in all subgroup analyses, including tumor stage and node status.
Patients who underwent BCT experienced regional recurrences and distant metastases less often than those who underwent mastectomy. In additional analyses, the 10-year distant metastasis (DM)-free survival (DMFS) in patients with T1N0 stage breast cancer who underwent BCT was significantly improved compared with those who underwent mastectomy.
The researchers reported limitations included confounding by indication, residual confounding, and HER2neu status. Furthermore, patients in the BCT group were younger and had more favorable tumor characteristics compared with patients in the mastectomy group.
REFERENCE
1. van Maaren MC, de Munck L, de Bock GH, et al. The effect of breast conserving surgery and mastectomy on 10-year survival. Oral presentation at: San Antonio Breast Cancer Symposium; December 8-12, 2015; San Antonio, TX.