September 16, 2014
Screening women over age 70 for breast cancer may lead to overdiagnosis
the ONA take:
According to a new study published in the journal BMJ, screening women for breast cancer up to age 75 may lead to overdiagnosis and overtreatment. In the study, researchers at Leiden University Medical Centre in Leiden, Netherlands, identified 25,000 women aged 70-75 and 13,000 women aged 76-80 with newly diagnosed noninvasive and invasive breast cancer between 1995 and 2011.
Researchers found that there was a sudden increase in the number of women aged 70-75 with early-stage breast cancer after changing the maximum age limit of screening women from 69 to 75 in 1998.
Specifically, before the change, there were 248.7 cases per 100,000 women, which rose to 362.9 cases per 100,0000 women after the age limit change. In addition, for patients with advanced breast cancer, cases decreased after the change from 58.6 cases to 51.8 cases per 100,000. For women aged 76-80, the number of cases of advanced cancer did not differ, while new cases of early-stage breast cancer decreased.
Per their analysis, researchers found that 20 patients were overdiagnosed with early-stage cancer for every case of advanced breast cancer detected in women aged 70-75.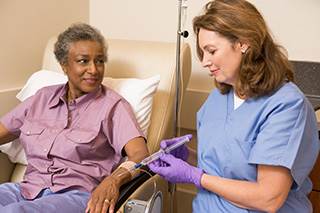 Screening women for breast cancer up to age 75 may lead to overdiagnosis and overtreatment.
As people in Western societies are living longer, it is expected that in the coming years there will be an increase in the proportion of older women with breast cancer - the largest contributor to death from cancer in women worldwide.
Older women with breast cancer are at increased risk for adverse outcomes and side effects from breast cancer treatment, and studies have shown that risk of death from breast cancer increases with age.
Although doctors have assumed that screening programs could diagnose breast cancer at an earlier stage in older women and therefore improve prognosis, no strong evidence exists for the benefits of this.
Sign Up for Free e-newsletters
Regimen and Drug Listings
GET FULL LISTINGS OF TREATMENT Regimens and Drug INFORMATION