December 24, 2015
Optimal Delivery of Male Breast Cancer Follow-up Care: Improving Outcomes
the ONA take:
Although male breast cancer is a rare disease, there are no randomized clinical trials in patients with male breast cancer to guide treatment and follow-up recommendations. Therefore, researchers extrapolated from guidelines designed for women with breast cancer and for men with other cancers to develop reasonable follow-up care for male breast cancer survivors.
In terms of surveillance, male breast cancer survivors may benefit from routine mammography of residual breast tissue, and those with BRCA mutations and other conditions that predispose them to second primary cancers could likely benefit from breast imaging. The investigators propose that male survivors of early stage breast cancer be offered yearly mammography of residual breast tissue for early detection of second breast cancers. Male breast cancer survivors should also undergo history and physical examination twice yearly for the first 5 years of follow-up, then yearly thereafter. Laboratory testing and nonbreast imaging should only be used when new or worsening symptoms suggest relapse or recurrence of disease. Because there is a strong association between BRCA2 mutations and male breast cancer, the researchers agree with the NCCN recommendations that all survivors be offered genetic testing and counseling.
For managing long-term treatment sequelae, the investigators deem it reasonable to regularly evaluate adherence to endocrine therapy and to encourage a lifestyle that includes a healthy diet and sufficient physical activity. Clinicians should also assess patients for hot flashes, sexual dysfunction, emotional distress, cardiotoxicity, venous thromboemboli, and osteoporosis because men are at risk for developing many of the same treatment-related sequelae as women, for which they may suffer a significant psychosocial burden.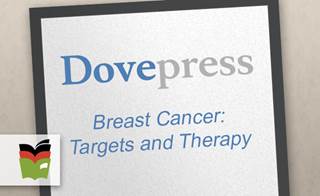 Breast Cancer: Targets and Therapy
Abstract: Male breast cancer is a rare disease. There are limited data to inform optimal treatment and follow-up strategies in this population. Currently, most follow-up guidelines are drawn from the vast literature on female breast cancer, despite the fact that male breast cancer has unique biological characteristics. In this review, we discuss clinical characteristics of male breast cancer as well as current best practices for long-term care with a focus on surveillance, screening, and treatment-related symptom management in male breast cancer survivors.


---
Keywords:
male breast cancer, follow-up, surveillance, screening
---
INTRODUCTION
Male breast cancer is a rare disease, comprising 1% of all breast cancer diagnoses and 0.25% of cancer diagnoses in men in the US.1,2 In 2015, it is estimated that 2,350 American men will be diagnosed with breast cancer and that 440 will die of the disease.3 Known risk factors for male breast cancer include genetic mutations (most notably, BRCA2), radiation exposure, increasing age, family history, and conditions that alter the estrogen/androgen balance, including Klinefelter syndrome.4–18However, little is known regarding optimal treatment and follow-up strategies for these patients. Currently, most male breast cancer care algorithms are extrapolated from the treatment and follow-up of female breast cancer patients, and data are particularly lacking regarding postcancer surveillance for male breast cancer survivors. In this manuscript, we review what is known about the clinical characteristics and treatment patterns seen in male breast cancer as a background for our discussion of best practices in surveillance, genetic testing, and management of side effects in male patients.
CLINICAL CHARACTERISTICS AND TREATMENTS
Cardoso et al recently reported the initial results of the EORTC10085/TBCRC/BIG/NABCG International Male Breast Cancer Program retrospective analysis, utilizing the largest collection of male breast cancer clinical characteristics and biological samples to date (N=1,483).19 This study confirmed previous research showing that male breast cancer has different biological characteristics than female breast cancer, with higher rates of hormone receptor positivity, older age at presentation, and higher proportion of nodal disease at presentation.2,20,21 In this large international cohort, only 10% of patients were 50 years or younger at diagnosis, the median age at diagnosis was 68 years, and 45% had node positive disease at presentation.