March 24, 2016
Emerging Role of Genomic Rearrangements in Breast Cancer: Applying Knowledge from Other Cancers
the ONA take:
Gene fusions, such as anakinase lymphoma kinase (ALK), BRAF, and MET, are present in a variety of cancers and are targets for kinase inhibitors. ALK mutations are commonly present in hematologic, soft tissue, lung, breast, and colorectal malignancies and are targeted by
ALK inhibitors and EGFR inhibitors. BRAF mutations are present in CNS, pancreatic, skin, and thyroid tumors and are targeted by BRAF and MEK inhibitors, such as dabrafenib and trametinib, respectively.
For breast cancer, however, no fusion genes are inhibited by currently approved targeted therapeutic agents. Various studies have identified various fusion genes that may potentially play a role in breast cancer subtypes. The fusion gene EML4-ALK­, which has also been found in colorectal cancer and non-small cell lung cancer, may play a role in basal, luminal, and HER2+ breast cancers, as well as inflammatory breast cancer. ALK inhibitors may be active in these tumors that harbor this gene fusion.
Furthermore, ERBB2 fusions, which have been found in relapsed invasive lobular breast cancer and invasive carcinoma may possibly be inhibited by HER2-targeting agents and ERC1-RET fusions observed in invasive carcinoma could be targeted by RET inhibitors, such as vandetanib.
Ultimately, as understanding of functional rearrangements in breast cancer expands, rearrangement-based biomarkers will become increasingly more important for developing precision medicine in breast cancer.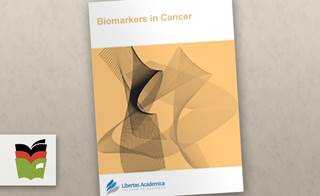 Biomarkers in Cancer
ABSTRACT
Significant advances in our knowledge of cancer genomes are rapidly changing the way we think about tumor biology and the heterogeneity of cancer. Recent successes in genomically-guided treatment approaches accompanied by more sophisticated sequencing techniques have paved the way for deeper investigation into the landscape of genomic rearrangements in cancer. While considerable research on solid tumors has focused on point mutations that directly alter the coding sequence of key genes, far less is known about the role of somatic rearrangements. With many recurring alterations observed across tumor types, there is an obvious need for functional characterization of these genomic biomarkers in order to understand their relevance to tumor biology, therapy, and prognosis. As personalized therapy approaches are turning toward genomic alterations for answers, these biomarkers will become increasingly relevant to the practice of precision medicine. This review discusses the emerging role of genomic rearrangements in breast cancer, with a particular focus on fusion genes. In addition, it raises several key questions on the therapeutic value of such rearrangements and provides a framework to evaluate their significance as predictive and prognostic biomarkers.
Keywords: rearrangements, genomic instability, fusion genes, biomarkers, breast cancer, personalized therapy