September 05, 2016
African American Breast Cancer Survivors Report Significant Problem Burden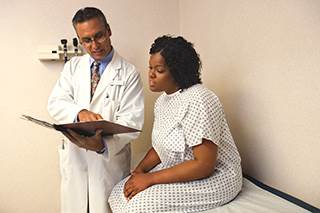 African American Breast Cancer Survivors Report Significant Problem Burden

African American survivors of breast cancer experience significant problem burden during the first 5 years after diagnosis and treatment, a study published in the journal Supportive Care in Cancer has shown.1

"We know that 21% of African American women with breast cancer don't survive 5 years past their diagnosis, compared to only 8% of Caucasian women," said Andrea Barsevick, PhD, RN, a professor in medical oncology and researcher at the Sidney Kimmel Cancer Center at Thomas Jefferson University, and lead author of this study. "We wanted to explore whether the problems they experience after their first round of treatment might contribute to that disparity."2

For the study, investigators identified African American females age 18 years or older who completed primary treatment for breast cancer in the past 5 years from the Pennsylvania Cancer Registry. Survivors were mailed a survey to assess survivorship problems.

The survey asked the cancer survivors to rate problems such as feeling less feminine, fatigue, and being treated as different from others as not a problem, somewhat of a problem, or a severe problem.

A total of 297 respondents completed the survey. Results showed that the respondents had a median of 15 survivor problems. Four main domains were identified: emotional problems, physical problems, lack of resources, and sexuality problems.

Researchers found that younger age, higher number of comorbidities, and greater medical mistrust were associated with increased problem severity.

"African American survivors have taught us what's important to them," said Dr Barsevick.

She and her colleagues are now working with local advisors to develop a culturally tailored survivorship care plan that includes resources and coping strategies to address concerns of African American women.

Reference

1. Barsevick AM, Leader A, Bradley PK, et al. Post-treatment problems of African American breast cancer survivors. Supp Care Cancer. 2016 Aug 19. doi: 10.1007/s00520-016-3359-z. [Epub ahead of print]

2. Thomas Jefferson University. A new study explores concerns of African American breast cancer survivors [news release]. EurekAlert! web site. http://www.eurekalert.org/pub_releases/2016-09/tju-ans090116.php. Accessed September 1, 2016.