May 02, 2016
A Review of Systemic Treatment in Metastatic Triple-Negative Breast Cancer
the ONA take:
Approximately 246 660 patients are expected to receive a diagnosis of breast cancer in the United States in 2016. Patients are categorized according to human epidermal growth factor receptor 2 (HER2) status and hormone receptor (HR) status, and tumors that are HER2-positive and/or HR-positive can be targeted by anti-HER2 treatments and endocrine therapies, respectively. However, some patients present with HER2-negative, estrogen and progesterone receptor-negative tumors. These patients are considered to have triple-negative breast cancer.
The treatment approach for this unique subset of patients is similar to that for patients with metastatic breast cancer. If a patient has bulky disease, a visceral crisis, and rapidly progressing disease, in addition to an ECOG performance status ≤2, normal organ function, and limited comorbidities, then he or she should receive combination chemotherapy. A patient should receive single-agent chemotherapy if they do not present with all of the aforementioned factors.
Commonly used single-agent therapies include doxorubicin, paclitaxel, capecitabine, gemcitabine, vinorelbine, eribulin, cyclophosphamide, carboplatin, cisplatin, docetaxel, albumin-bound paclitaxel, epirubicin, ixabepilone, and pegylated liposomal doxorubicin. Although not frequently used, combination therapies typically include capecitabine plus docetaxel or ixabepilone, and paclitaxel plus gemcitabine or doxorubicin. However, not all combination strategies have been shown to improve survival in these patients and anthracycline-based chemotherapy regimens are often more toxic than sequential single-agent treatment.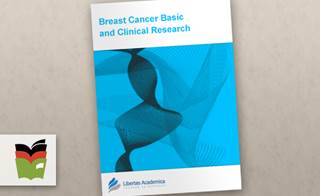 Breast Cancer Basic and Clinical Research
ABSTRACT
Patients with breast cancer along with metastatic estrogen and progesterone receptor (ER/PR)- and human epidermal growth factor receptor 2 (HER2)-negative tumors are referred to as having metastatic triple-negative breast cancer (mTNBC) disease. Although there have been many new treatment options approved by the Food and Drug Administration for ER/PR-positive and Her2/neu-amplified metastatic breast cancer, relatively few new agents have been approved for patients with mTNBC. There have been several head-to-head chemotherapy trials performed within the metastatic setting, and much of what is applied in clinical practice is extrapolated from chemotherapy trials in the adjuvant setting, with taxanes and anthracyclines incorporated early on in the patient's treatment course. Select synergistic combinations can produce faster and more significant response rates compared with monotherapy and are typically used in the setting of visceral threat or symptomatic disease. Preclinical studies have implicated other possible targets and mechanisms in mTNBC. Ongoing clinical trials are underway assessing new chemotherapeutic strategies and agents, including targeted therapy and immunotherapy. In this review, we evaluate the standard systemic and future treatment options in mTNBC.
---
Keywords:
triple-negative breast cancer, metastatic breast cancer, hormone receptor-negative breast cancer
---