April 14, 2017
Mastectomy Skin Flap Necrosis: Challenges and Solutions
the ONA take:
Approximately half of patients with symptomatic breast cancer and one-fourth of patients with screen-detected breast cancer undergo mastectomy as part of their treatment in the United Kingdom.
Mastectomy skin flap necrosis (MSFN) is a common and largely underappreciated adverse effect of the procedure. Incidence rates vary in the literature from 5% to 30%.
MSFN can manifest as partial-thickness or full-thickness necrosis depending on procedure-related factors: delayed vs immediate reconstruction, skin-sparing or nipple-sparing technique, and trend toward more direct-to-implant reconstruction.
In this review, the researchers sought to determine the associated challenges of MSFN and its possible resolutions.
The challenges researchers identified in patients who develop MSFN include wound management issues, delayed adjuvant therapy, esthetic compromise, implant extrusion, patient distress, and financial loss.
Treatment options range from nonoperative management techniques, such as wound dressings, antimicrobials, and wound management devices, to operative techniques, such as excision of the necrotic tissue with resuturing, skin banking, or skin grafts.
The researchers conclude that although MSFN occurs more often than perceived, careful attention to patient risk factors and preoperative planning can reduce the chances of MSFN.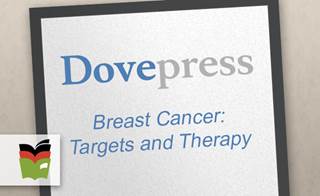 Breast Cancer: Targets and Therapy
Introduction: Mastectomy skin flap necrosis (MSFN) has a reported incidence of 5%–30% in the literature. It is often a significant and underappreciated problem. The aim of this article was to review the associated challenges and possible solutions.
Methods: A MEDLINE search was performed using the search term "mastectomy skin flap necrosis". Titles and abstracts from peer-reviewed publications were screened for relevance.
Results: MSFN is a common complication and may present as partial- or full-thickness necrosis. Predictive patient risk factors include smoking, diabetes, obesity, radiotherapy, previous scars and severe medical comorbidity. MSFN leads to a number of challenges, including wound management problems, delays to adjuvant therapy, esthetic compromise, implant extrusion, patient distress and financial loss. Careful preoperative planning and meticulous surgical technique may reduce the incidence of MSFN. A number of intraoperative techniques are available to try and predict skin flaps at risk of MSFN. MSFN may be managed operatively or nonoperatively. Early intervention may reduce the morbidity of MSFN in selected cases. Topical nitroglycerin ointment may be beneficial in reducing MSFN following immediate reconstruction, but the evidence base is still limited.
Conclusion: MSFN can result in considerable challenges for the patient and the health care service. This review discusses the management options for this problem.

---
Keywords:
mastectomy, flap, necrosis, complication, breast surgery
---
INTRODUCTION
Mastectomy remains a common procedure and is performed on approximately half of women with symptomatic breast cancer and a quarter of those with screen-detected breast cancer in the UK.1However, mastectomy skin flap necrosis (MSFN; Figure 1) occurs more commonly than appreciated, with reports in the literature ranging from 5% to 30%.2–10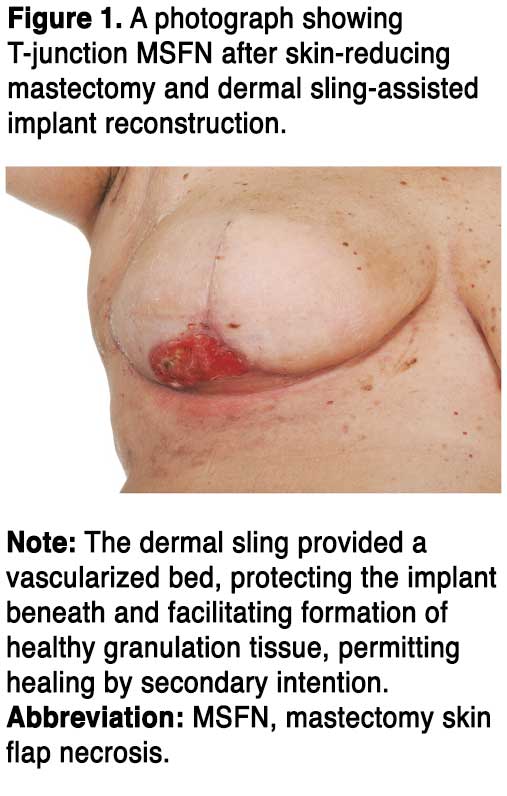 The recent UK National Mastectomy and Breast Reconstruction Audit (NMBRA) reported an overall incidence of ~5%.2 This national audit described outcomes in >18,000 women undergoing mastectomy with or without reconstruction between January 1, 2008, and March 31, 2009 in the UK. In response to questionnaires collected 3 months after surgery, 4% of women in the mastectomy-alone group reported that the "breast skin turned dark and died", whereas 6.1% reported this complication in the immediate reconstruction group and 5.5% in the delayed reconstruction group. Other series report even higher rates of MSFN for mastectomy with immediate reconstruction, ranging from 7% to 30%.3–10 Numerous factors may contribute to this high rate, including an increasing rate of immediate reconstruction using skin-sparing mastectomy (SSM) and nipple-sparing mastectomy (NSM) techniques (with the preservation of more skin/longer skin flaps) and a move toward more direct-to-implant reconstructions.11 While SSM preserves the native breast skin envelope to optimize esthetic outcomes, immediate reconstruction has been shown to be associated with a higher complication rate than delayed procedures, of which a common early complication is MSFN.12–15