December 10, 2015
Idelalisib With Bendamustine and Rituximab Superior to Bendamustine and Rituximab alone for Relapsed/Refractory CLL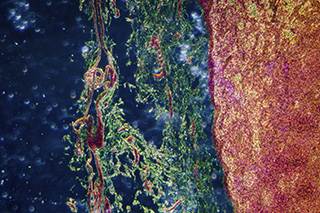 Idelalisib With Bendamustine and Rituximab Superior to Bendamustine and Rituximab alone for Relapsed/Refractory CLL
ORLANDO—Idelalisib in combination with bendamustine and rituximab is superior to bendamustine and rituximab alone and "represents an important new option" for patients with relapsed/refractory chronic lymphocytic leukemia (CLL), attendees at the 57th American Society of Hematology (ASH) Annual Meeting were told.1
Presenting the results of the phase 3 randomized trial, which was unblinded after an interim analysis showed "overwhelming efficacy" for the arm containing idelalisib, Andrew D. Zelenetz, MD, PhD, Department of Medicine, Lymphoma Service, Memorial Sloan Kettering Cancer Center, and Weill Cornell Medical College, New York, NY, said the triple-agent regimen increased overall survival and progression-free survival and reduced the risk of disease progression and death.
Patients without the del(17p)/TP53 mutation also benefited from the addition of idelalisib, a first-in-class targeted PI3k delta inhibitor, he said.
The study enrolled 416 patients with relapsed/refractory CLL between June 2012 and August 2014. The interim analysis was triggered when 75% of 260 planned events had occurred, defined as CLL progression or death from any cause. The data cutoff date was June 15, 2015.
The intent-to-treat analysis included 207 patients in the bendamustine and rituximab arm plus idelalisib arm and 209 in the bendamustine and rituximab arm plus placebo arm. The patients were 76% male; 58% were younger than 65 years, and 46% were Rai stage 3/4. High-risk features included del(17p)/p53 mutation in 32.9%, unmutated IGHV in 83.2%, and refractory 29.8%. Median number of prior therapies was 2 (range, 1 - 13) and median time since completion of prior therapy was 16 months.
At median follow-up of 12 months, median progression-free survival in the idelalisib arm was 23.1 months vs 11.1 months for the placebo arm (HR, 0.33; 95% CI, 0.24 – 0.45; P < .0001), Dr Zelenetz reported. Overall response was 68% in the idelalisib arm and 45% in the placebo arm; with 2 complete remissions vs none, respectively. A 50% or greater reduction in lymph nodes was observed in 96% of patients in the idelalisib arm and 61% in the placebo arm.
Median overall survival was not reached for either arm (HR, 0.55; 95% CI 0.36 - 0.86; P = .008).
In the idelalisib arm, the most common all-grade adverse events were neutropenia (63%) and pyrexia (42%) and, in the placebo arm, neutropenia (54%) and nausea (34%). The most common grade 3 or higher adverse events among all patients were neutropenia (60%) and febrile neutropenia (20%) in the idelalisib arm and neutropenia (46%), anemia (12%), and thrombocytopenia (12%) in the placebo arm.
Serious adverse events, which occurred in greater than 2% of patients, included grade 3 or higher diarrhea in the idelalisib arm, 4%, vs 1.9% in the placebo arm.
Transaminase abnormalities were observed more frequently in the idelalisib arm.
Based on these results, "I believe that bendamustine and rituximab plus idelalisib represent an important new treatment option for our patients with relapsed and refractory disease," he concluded.
Reference
1. Zelenetz AD, Robak T, Coiffier B, et al. LBA-5 Idelalisib plus bendamustine and rituximab (BR) is superior to BR alone in patients with relapsed/refractory chronic lymphocytic leukemia: results of a phase 3 randomized double-blind placebo-controlled study. Oral presentation at: 57th American Society of Hematology (ASH) Annual Meeting & Exposition; December 5-8, 2015; Orlando, FL.