June 04, 2016
Study Supports Increased Role for Surgery in Multimodality Therapy for Early Stage SCLC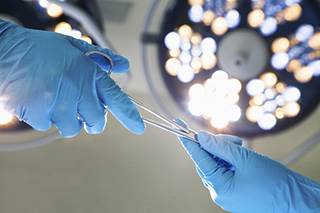 Study Supports Increased Role for Surgery in Multimodality Therapy for Early Stage SCLC
CHICAGO — Surgery for early stage small cell lung cancer (SCLC) is rarely used. However, results from a population-based database support an increased role for its use: surgery with adjuvant chemotherapy with or without radiation for node-negative SCLC was associated with better survival compared with concurrent chemoradiation, study findings reported at the 2016 American Society of Clinical Oncology (ASCO) Annual Meeting has shown.1
"Current National Comprehensive Cancer Network (NCCN) guidelines recommend surgery followed by adjuvant chemotherapy for clinical T1-2 N0M0 SCLC," Chi-Fu Jeffrey Yang, MD, Duke University Medical Center, Durham, North Carolina, and colleagues reported. However, "no studies, prospective or retrospective, have specifically compared surgery vs concurrent chemoradiation" for this population, he added.
To determine whether surgery offers a survival advantage over concurrent chemoradiation, the investigators interrogated the National Cancer Data Base. Overall survival of patients with early stage SCLC who underwent concurrent chemoradiation vs surgery with chemotherapy with or without radiation in the database from 2003 to 2011 was assessed and a propensity-score matched analysis conducted.
Groups were matched for common prognostic covariates (age, sex, race, year of diagnosis, insurance type, median household income, education, treatment facility type, distance from facility, hospital volume, clinical T status, and Charlson/Deyo comorbidity condition score).
Of the 4729 patients treated during the study period, 681 (14.4%) underwent surgery with adjuvant chemotherapy with or without radiation and 1620 (34.3%) underwent concurrent chemoradiation.
"After propensity-score matching by surgery with adjuvant chemotherapy with or without radiation vs concurrent chemoradiation, all 12 covariates were well balanced between the surgery (n = 545) and concurrent chemoradiation (n = 545) groups," Dr. Yang noted.
Surgery was found to be associated with a significantly higher overall survival than concurrent chemoradiation; 5-year overall survival rates were 48.9% vs 30.0%, respectively, (log-rank P < .01).
"To minimize treatment selection bias due to comorbidities, we limited the propensity-matched analysis to 536 patients with no comorbidities," the investigators noted. Results showed "surgery remained significantly associated with a higher overall survival than concurrent chemoradiation"; 5-year rates of overall survival were 48.8% vs 30.4%, respectively, (log-rank P < .01).
In multivariable analysis, surgery was associated with improved survival compared with concurrent chemoradiation (HR, 0.58; 95% CI, 0.51-0.67; P < .01), the investigators found.
"The results of this population-based analysis support current NCCN guidelines and support an increased role of surgery in multimodality therapy for cT1-2 N0 M0 SCLC," they concluded.
Reference
1. Yang CJ, Chan DY, Yerokun B, et al. Surgery versus optimal medical management of early-stage small cell lung cancer. Poster presentation at: 2016 ASCO Annual Meeting; June 3-7, 2016; Chicago, IL.