August 24, 2012
Vincristine (Oncovin, Vincasar)
Download:

PDF of Stat Consult 0812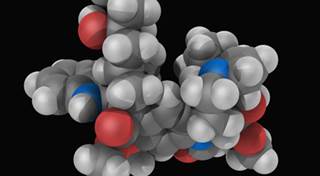 Vincristine (Oncovin, Vincasar)
Drug type
Indications
Hodgkin disease; Kaposi sarcoma; leukemia; neuroblastoma; non-Hodgkin lymphoma; rhabdomyosarcoma; Wilms tumor
In combination with other agents, may also be used to treat
Autoimmune hemolytic anemia; brain medulloblastoma; Burkitt lymphoma; Ewing sarcoma; idiopathic thrombocytopenic purpura; multiple myeloma; osteogenic sarcoma; small cell lung cancer; and some types of sarcoma
Mechanism of action
Vincristine inhibits microtubule formation and DNA/RNA synthesis. It arrests the cell in metaphase by disrupting the formation of the mitotic spindle, hence it is a spindle poison.
Dosage and administration
Administered intravenously at weekly intervals, frequency can vary based on protocol
Usual dose for pediatric patients: 1.5-2 mg/m2/dose
— ≤10 kg: Starting dose should be 0.05 mg/kg/dose, administered once a week
Usual dose for adult patients: 1.4 mg/m2
— Dose may be capped at a maximum of 2 mg/dose in certain protocols
— 50% reduction in dose is recommended for patients with a direct serum bilirubin value >3 mg/dL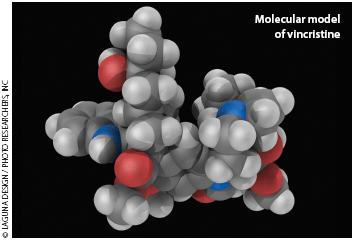 Pregnancy and lactation
Pregnancy category D
Lactation
— Unknown whether distributed in breast milk
— Breastfeeding not recommended during therapy
Cautions
NB: Intrathecal administration will result in death.
Vesicant
Bone marrow depression, neuropathy, neuromuscular disease, neurotoxic agents, ototoxic agents, pulmonary disease, hepatic impairment, avoid extravasation
Withhold if neurotoxicity develops (usually reversible)
Potential for jaw/parotid pain, hoarseness, dysphagia due to cranial neuropathy
Avoid pregnancy
Risk of paralytic ileus
Adverse effects
Alopecia (20% -70% of patients)
Other effects (frequencies are not defined)
— Acute uric acid nephropathy; amenorrhea; aspermia; constipation; gait changes; hypertension; hypotension; jaw pain; leukopenia; loss of deep tendon reflexes; myelosuppression; nausea; paralytic ileus; paresthesia; peripheral neuropathy; sensory loss; vomiting
Drug interactions
Vincristine is a substrate of CYP3A4
Exercise caution with patients concurrently taking drugs known to inhibit drug metabolism by hepatic cytochrome P450 isoenzymes in the CYP3A subfamily or in patients with hepatic dysfunction.
— Concurrent administration with itraconazole (Onmel, Sporanox, generic) has been reported to cause an earlier onset and an increased severity of neuromuscular side effects.
CYP3A4 inducers (echinacea, St John's Wort) may decrease the levels of vincristine
Simultaneous administration of phenytoin and antineoplastic chemotherapy combinations that included vincristine sulfate lowered blood levels of the anticonvulsant and increased seizure activity.
What to tell your patient
Your doctor has ordered the anticancer medicine, vincristine, to help treat your illness.
Vincristine is given on a schedule, usually weekly, or as directed by your doctor.
Vincristine is given only by injection into a vein.
— This drug may leak into surrounding tissue. Your nurse or doctor will monitor the administration site for this reaction.
Vincristine slows or stops the growth of cancer cells in your body. The duration of treatment depends on the types of drugs you are taking, how well your body responds to them, and the type of cancer you have.