The Total Patient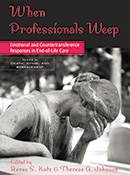 Edited by Renee S. Katz, Therese G. Johnson

These programs are designed to help patients rebuild a positive self body image and cope with the physical effects of cancer and treatments.

These programs are designed to address the unique challenges of providing cancer care to patients older than 65 years.

Patients at the end of life often forego their resolve to die in their home, and visit an emergency department for care. A recent study sought to understand this decision.

Another therapeutic intervention can be added to the list of effective palliative care modalities available for patients with cancer: qigong (CHI gung). A newly published study found that the ancient mind-body practice ...

Families coping with cancer need a break from stress and its impact on their lives. These organizations help them enjoy happy times together.

A family keeps their matriarch's legacy alive through an organization that tends to the spirit of survival.

Quality of life can be greatly enhanced through effective palliative care. These tips help nurses and family provide an ideal environment for patients.

Recent studies investigated how diet and two dietary supplements could reduce this debilitating side effect of cancer and its treatment.

ASCO recommends offering palliative care to all patients with metastatic or advanced cancer, ideally at diagnosis.