The Total Patient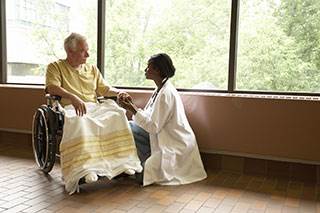 A recent study demonstrates cost efficiencies seen in patients with cancer who enrolled in the Medicare hospice program. It also offers explanations for why more patients may not be using the program.

A medical center in New Jersey makes the most of a rare opportunity to rebuild from the ground up. Its innovative patient rooms follow evidence-based design, a new concept in health care architecture.

A novel program helps patients with cancer eat better by helping them grow their own fruits and vegetables.

A major medical center in New York City uses a program of arts and music to help patients through their treatments. The program is even being used to give nurses a chance to de-stress.

Cognitive behavioral therapy can help patients with breast cancer undergoing radiotherapy to manage fatigue, often their most debilitating side effect.

A new study demonstrates that nonpharmaceutical techniques can resolve sleep disturbance and insomnia in patients with cancer.

Both patients and clinicians often confuse palliative care and hospice care. Palliative care clinicians offer 10 points to help explain the purpose of the former.

These programs are designed to help patients rebuild a positive self body image and cope with the physical effects of cancer and treatments.

These programs are designed to address the unique challenges of providing cancer care to patients older than 65 years.

Patients at the end of life often forego their resolve to die in their home, and visit an emergency department for care. A recent study sought to understand this decision.
Sign Up for Free e-newsletters
Regimen and Drug Listings
GET FULL LISTINGS OF TREATMENT Regimens and Drug INFORMATION