November 04, 2015
Surviving Cancer Does Not Encourage Healthier Diets In Patients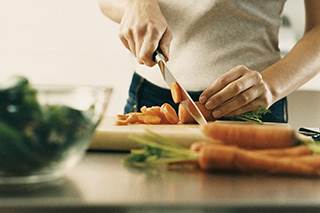 Poor nutrition is more common in cancer survivors than the general population.
Many cancer survivors suffer from poor nutrition. This may come as no surprise, given the deleterious characteristics of the disease and its treatments; however, poor nutrition in this patient group is more significant than it is in the general population. To evaluate just how significant diet is for these patients, researchers used data from 6 cycles of NHANES (National Health and Nutrition Examination Survey) surveys from 1999 through 2010 for a study of nutritional intake among cancer survivors. NHANES is a major program of the National Center for Health Statistics (NCHS), which is part of the Centers for Disease Control and Prevention (CDC). NCHS is the branch responsible for using interviews and physical examinations to produce vital and health statistics for adults and children in the United States.1
Fang Fang Zhang, MD, PhD, and her multi-institutional team undertook the study.2 Zhang is assistant professor in the Friedman School of Nutrition Science and Policy at Tufts University. The primary purpose of the research was to evaluate how well cancer survivors included in NHANES actually adhere to the United States Department of Agriculture (USDA) Dietary Guidelines for Americans 2010.3 The investigators also sought to determine how the quality of cancer survivors' diets compared to diet quality of the general population. To that end, the research team used the Healthy Eating Index-2010 (HEI-2010) with methods provided by the USDA. HEI-2010 measures adherence to the 2010 Dietary Guidelines for Americans.4,5
PARTICIPANT CHARACTERISTICS
For the study, the researchers analyzed the diets of 1533 NHANES participants who were cancer survivors and compared them with 3075 persons who had never had a cancer diagnosis. The participants ranged in age from 20 to 79 years, with an average age of 58 years.2 The cancer survivor group included 898 females and 635 males; the noncancer group included 1799 females and 1276 males. Participants' race/ethnicity was classified as either non-Hispanic white, non-Hispanic black, or other. Characteristics also included education (high school or some college/college graduate), alcohol intake (drinker or nondrinker), smoking status (current, former, or never smoker), family income-to-poverty ratio, and body mass index (BMI). Interestingly, none of the survivors was underweight. In fact, mean BMI was 28.9 kg/m2, and 70% of the survivors were overweight or obese. With regard to smoking, cancer survivors were more likely to be current or past smokers than those people with no history of cancer.
CANCER TYPES
The investigators evaluated data for the four major types of cancer (43% of all participants' cancers): breast, colorectal, lung, and prostate. Sixty-six percent of the survivors were female, and 83% were non-Hispanic whites. Approximately half of the survivors had completed some college, and half had family income-to-poverty ratios higher than 300%.