December 30, 2016
Escalating Drug Prices Central to Value Discussion of Cancer Treatment Regimens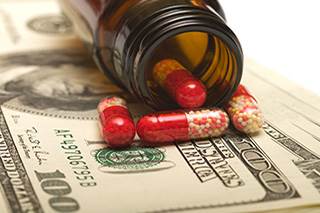 The cost factor in cancer treatment value discussions
In a recent paper published in
Health Affairs,
the United States was found lagging in access to cancer drugs while spending more per patient compared with 8 European countries.
8
Cost-Associated Trends
One alarming statistic Dr Bach cited was time to fill a prescription: a median of more than 40 days among Medicare patients with chronic myeloid leukemia who had to pay out of pocket for a tyrosine kinase inhibitor, when compared with those covered by a cost-sharing subsidy.9 A survey conducted by the Kaiser Family Foundation found 26% of all respondents reported problems paying their medical bills in the previous 12 months, as did 26% of those with private insurance with a high annual deductible, defined as $1500 or more for an individual and $3000 or more for a family.
Policy trends that will expose patients more to prices include stripped down health insurance in which out-of-pocket costs for prescriptions are higher (eg, a percentage of a drug's price vs a co-pay). Between 2014 and 2016, patients exposed to more than one-third of a drug's actual cost in an exchange plan increased from 37% to 63% of plans.
Potential Resolutions
Dr Bach outlined 3 general approaches to high prices: use market forces; solve for price; and make patients deal with price.
The first relies on competition for market share, generally lacking in branded drugs. The second focuses on outcomes-based pricing, which marries a drug's price to how well it works, an approach now being examined for heart medications. The third revolves around helping patients understand what they are getting, much as if they were going into a car dealership or Costco, explained Dr Bach. In other words, "the price should be dealt with as a feature of the drug, like its toxicity or its potential benefits."
References
1. Bach PB. What now for drug pricing? Paper presented at: San Antonio Breast Cancer Symposium; December 6-10, 2016; San Antonio, TX.
2. Evidence driven drug pricing project. Memorial Sloan Kettering Cancer Center web site. http://www.drugabacus.org/. Accessed December 27, 2016.
3. Schnipper LE, Davison NE, Wollins DS, et al. Updating the American Society of Clinical Oncology Value Framework: revisions and reflections in response to comments received. J Clin Oncol. 2016;34(24):2925-2934.
4. ESMO magnitude of clinical benefit scale. European Society for Medical Oncology web site. http://www.esmo.org/Policy/Magnitude-of-Clinical-Benefit-Scale. Accessed December 27, 2016.
5. NCCN Clinical Practice Guidelines in Oncology (NCCN Guidelines®) with NCCN Evidence Blocks™. National Comprehensive Cancer Network web site. https://www.nccn.org/evidenceblocks/. Accessed December 27, 2016.
6. ICER value assessment framework. Institute for Clinical and Economic Review web site. https://icer-review.org/methodology/icers-methods/icer-value-assessment-framework/. Accessed December 27, 2016.
7. Bach PB, Conti R, Muller RJ, Schnorr GC, Saltz LB. Overspending driven by oversized single dose vials of cancer drugs. BMJ. 2016;352:i788. http://www.bmj.com/content/352/bmj.i788. Accessed December 27, 2016.
8. Salas-Vega S, Mossialos E. Cancer drugs provide positive value in nine countries, but the United States lags in health gains per dollar spent. Health Aff. 2016;35(5):813-823.
9. Winn AN, Keating NL, Dusetzina SB. Factors associated with tyrosine kinase inhibitor initiation and adherence among Medicare beneficiaries with chronic myeloid leukemia. J Clin Oncol. 2016;34(36):4323-4328.