Radiation and Your Patient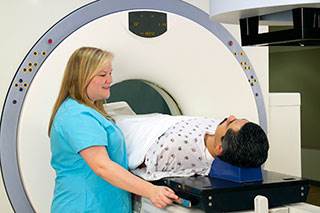 Hypofractionated regimen of precision radiotherapy was not inferior to conventional RT in patients with intermediate-risk prostate cancer.

The addition of temozolomide to short-course radiotherapy in elderly patients with glioblastoma was associated with some survival benefit compared with radiotherapy alone.

Health care costs lower for early-stage breast cancer when adjuvant radiation therapy follows evidence-based guidelines.

Use of chemotherapy or vaginal brachytherapy (VBT) may improve survival among patients with early-stage uterine papillary serous carcinoma.

Shorter course of higher dose radiation therapy provide effective treatment, costs less, and is easier on patients than current standard radiation therapy course.
Treatment with radiation therapy for invasive breast cancer may place East Asian women at a greater risk of developing second primary lung cancer (SPLC).

Elderly with NSCLC have lower incidence of esophagitis, can tolerate aggressive radiation therapy.

A new tool may enable oncologists to deliver radiation therapy targeted to a tumor's biology and radiosensitivity, similar to how anticancer agents target specific tumor mutation-affected gene pathways.

A recent paper on the future of radiation oncology reports on the trend toward a greater role for shared decision making and patient-reported outcomes, such as the interrelated benchmarks of patient satisfaction, engagement, and treatment-plan adherence.
A growing proportion of cancer patients are elderly—creating a demographic shift with important implications for cancer care, including radiotherapy. Integrating geriatric care into oncology nursing has never been more important.
Sign Up for Free e-newsletters
Regimen and Drug Listings
GET FULL LISTINGS OF TREATMENT Regimens and Drug INFORMATION