Radiation and Your Patient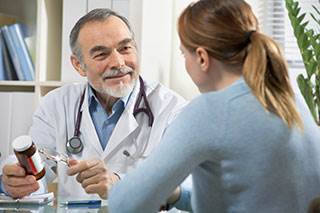 New templates from the American Society of Clinical Oncology (ASCO) will augment successful cancer survivorship care planning. But a stronger effort toward implementation is still needed.

A new role for conformal radiotherapy is evolving. Targeted treatment can offer effective palliative management of pain and other side effects of cancer.
Interstitial lung disease appears to be a risk factor for radiation pneumonitis, a potentially life-threatening adverse effect of radiotherapy to the chest and thorax.

Radiogenomics is maturing into a predictor of patients' likelihood of experiencing radiotoxicities and late radiation effects.

Psychosocial decline occurs in an estimated one-third of patients undergoing radiotherapy for cancer. These declines may sometimes be ameliorated by vigilant recognition of the need to refer patients for psychosocial support interventions.

High-dose-rate (HDR) brachytherapy is typically used as a dose-escalating boost for external beam radiotherapy for prostate cancer; however, some researchers believe it might be close to graduating to a viable monotherapy.

Some patients undergoing radiotherapy for cancers of the head, neck, and brain are at risk for endocrinopathies. This article reviews the risks, detection, and management of radiotherapy-induced hypopituitarism.
Sexual dysfunction is a common and distressing side effect of prostate cancer treatment. Two new reports from randomized clinical trials offer mixed results for adjuvant pharmacotherapy intended to prevent erectile dysfunction in men undergoing radiotherapy for prostate cancer.

Although uncommon, this side effect of radiation with adjuvant drug therapy is unpredictable, sometimes delayed, and can occur with administration of antibiotics and other drugs as well as chemotherapy.

Soy and soy isoflavones are alleviating skin and lung toxicities from thoracic radiotherapy in preclinical study models; however, researchers stress the need for further studies.
Sign Up for Free e-newsletters
Regimen and Drug Listings
GET FULL LISTINGS OF TREATMENT Regimens and Drug INFORMATION