Radiation and Your Patient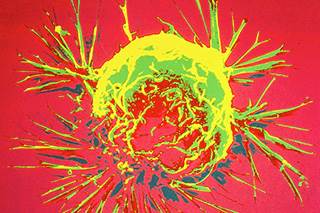 Preliminary results of a prospective, phase II trial show that once-daily accelerated partial breast irradiation (APBI) effectively prevented recurrence of cancer in the treated breast at a median 34 months after treatment.

Sleep patterns and habits should be a part of oncology nurses' routine patient assessment, as sleep disorders can be a significant challenge for cancer patients undergoing radiation therapy.

Laser heat may soon be an option to treat prostate cancer. Focal laser ablation has been found both feasible and safe in men with intermediate risk prostate cancer.

Surgery for early stage small cell lung cancer (SCLC) is rarely used. However, results from a population-based database has shown surgery with adjuvant chemotherapy with or without radiation for node-negative SCLC was associated with better survival compared with concurrent chemoradiation, according to a presentation at the 2016 ASCO Annual Meeting.

Combining radiation treatments with a new generation of immunotherapies is showing promise in the treatment of melanoma, according to a recent review.
Patients with stage IIA testicular cancer gain a survival advantage from treatment with radiation therapy compared with chemotherapy.
High doses of SBRT, particularly to the left atrium of the heart and the superior vena cava, are associated with a small but increased risk of death from noncancer causes in patients with early stage NSCLC.
Adding an immune system-strengthening compound to radiation therapy can extend the immune response that the radiation therapy induces, so that both irradiated tumor sites and tumors outside the radiation field are affected.

Delayed radiation therapy (RT) after surgery significantly increased the risk of recurrent disease in women treated for very early breast cancer.
Longer survival was achieved with stereotactic radiosurgery (SRS) alone than with whole-brain radiation therapy (WBRT) in patients with fewer than 4 brain metastases from NSCLC or breast cancer.
Sign Up for Free e-newsletters
Regimen and Drug Listings
GET FULL LISTINGS OF TREATMENT Regimens and Drug INFORMATION