April 06, 2016
Higher Treatment Volumes at Radiation Facilities Lead to Improved Overall Survival in Prostate Cancer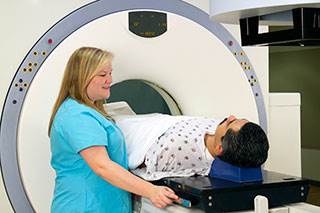 Higher Treatment Volumes at Radiation Facilities Lead to Improved Overall Survival in Prostate Cancer
Among men with aggressive prostate cancer, overall survival (OS) rates improve when they receive radiation treatment at facilities that frequently perform the treatment. At facilities that infrequently perform radiation therapy, OS rates were lower.1
The correlation between improved health outcomes and higher hospital volume has been established previously. However, whether such a correlation existed in health outcomes of radiation-treated patients and the volume of treatments at the facility had not been examined.
This study examined data from the National Cancer Database, a clinical oncology database from hospital registry data collected from more than 1500 facilities and sponsored by the American College of Surgeons and the American Cancer Society. In total, researchers identified data from 19 565 patients with high-risk prostate cancer diagnosed between 2004 and 2006. The radiation case volume of each hospital was determined based on the total number of patients with prostate cancer who underwent radiation therapy.
Median follow-up was 81.0 months. Each addition of 100 radiation-treated patients to radiation case volume of a facility correlated with improved OS (adjusted hazard ration [AHR]: 0.97; 95% CI: 0.95-0.98; P < .0001).
For example, when radiation case volume was split at the 80th percentile (43 patients per year), the group treated at facilities with higher radiation case volumes correlated with improved 7-year OS (76% vs 74%, log-rank test P = .0005; AHR: 0.91, 95% CI: 0.86-0.96, P = .0005).
Correlations remained significant when radiation case volume was split at the 75th percentile (37 patients per year), 90th percentile (60 patients per year), and 95th percentile (84 patients per year). No significant correlation existed when the split was made at the 50th percentile (19 patients per year).
"Our paper shows that experience counts," said Paul Nguyen, MD, associate professor of Radiation Oncology at Harvard Medical School and director of Prostate Brachytherapy and Clinical Trials for Genitourinary Radiation Oncology at Dana-Farber Cancer Institute, Boston, Massachusetts, and corresponding author of the study.
"For men with aggressive prostate cancer, survival is improved if they receive their radiation treatments at a high-volume facility as opposed to a lower-volume facility."
REFERENCE
1. Chen YW, Mahal BA, Muralidhar V, et al. Association between treatment at a high-volume facility and improved survival for radiation-treated men with high-risk prostate cancer. Int J Radiat Oncol Biol and Phys. 2016;94(4):683-690. doi:10.1016/j.ijrobp.2015.12.008.