December 21, 2016
Most Common Reason for Prostate Cancer Second Opinions: More Information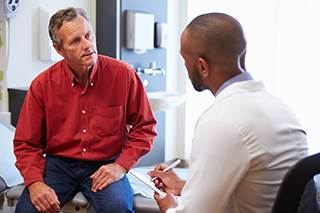 Why do men really seek out a second opinion before starting prostate cancer treatment?
For the second opinion study, researchers mailed an unconditional $2 incentive with the first survey mailing. They sent an additional mailing of the survey to nonresponders, who also received follow-up phone calls. The researchers sent participants $15 upon completion of the survey. The researchers for the second opinion study defined definitive treatment as radiation therapy (seed brachytherapy or external beam radiation) or surgery.1
More white men responded to the survey (77%) than black men. More responders had private insurance, and more responders received definitive treatment compared with those who respond to the survey. 1
Why Men Seek Second Opinions
Respondents cited several reasons for seeking a second opinion from new urologists. Approximately 50% of respondents reported wanting more information about their disease, while 46% said they wanted to be seen by the "best doctor."1 Thirty-one percent of respondents were encouraged by friends and family members to seek a second opinion, and 25% said they were looking for treatment options the first physician did not offer. Only 15% of respondents reported wanting a second opinion because they were dissatisfied with their original urologist.1
Younger men with at least a college-level education sought a second opinion significantly more often than did men age 70 to 74 years who had only a high school education or less. Patients younger than 60 years said they wanted an opinion from the best doctor, and they were hoping to gain additional information about their cancer, as did those of any age with a college education or higher. Patients older than 75 years were the least likely to report dissatisfaction with their original urologist as their reason for seeking a second opinion.
No Change
Although many of the men in this study chose to obtain a second opinion, their reasons were to obtain more information about their prostate cancer and/or they wanted to be seen by the best doctor. Because dissatisfaction with their original urologist was not their incentive for obtaining another opinion, most survey respondents did not change their treatment plans.
1
Therefore, the researchers suggest that further studies are needed to understand the value of second opinions in cancer care.
References
1. Radhakrishnan A, Grande D, Mitra N, Bekelman J, Stillson C, Pollack CE. Second opinions from urologists for prostate cancer: who gets them, why, and their link to treatment. Cancer. 2016 Nov 7. doi: 10.1002/cncr.30412. [epub ahead of print]
2. Prostate cancer. Centers for Disease Control and Prevention (CDC) web site. https://www.cdc.gov/cancer/prostate. Accessed December 14, 2016.
3. Zeigler-Johnson CM, Tierney A, Rebbeck TR, Rundle A. Prostate Cancer Severity Associations with Neighborhood Deprivation.
Prostate Cancer
, vol. 2011, Article ID 846263, 9 pages, 2011. doi:10.1155/2011/846263.