Navigator Notes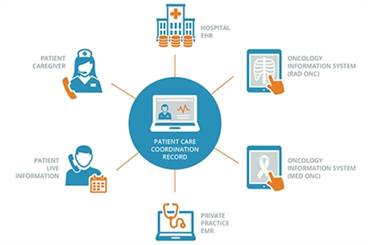 A navigator offers her take on how the ideal EHR system could unify the oncology care team toward the common goal of optimal patient outcomes.

Novel intervention focuses on caregivers' beliefs, knowledge, and skills regarding home care for patients with cancer resulting in improved pain management and better overall care at the end of life.

Teenagers and young adults with cancer rated digital resources such as email, online information resources, and communication tools as critical to their lives. These patients would also utilize additional resources such as chat rooms and online counseling and support.

Results of a recent study found that the effectiveness of the 9-item Patient Health Questionnaire (PHQ-9) and the Hospital Anxiety and Depression Scale (HADS-D) in screening for major depressive disorder (MDD) in patients with cancer was limited compared to the standardized diagnostic interview.

Lifestyle changes that promote proper weight management, increased exercise, and a healthy diet have the potential to improve survivors' health and well-being.

An effective nurse navigator approach involves removing barriers to good care, such as differences in health care delivery systems, poor communication, and financial impediments.

A patient survey was designed to examine patient views of their initial breast cancer diagnosis process and care management.

Lay cancer patient navigators can address barriers to care such as financial burden and psychosocial distress, and can help reduce disparities across the continuum of care.

By identifying incidence, prevalence, and risk factors for colorectal and pancreatic cancer in our communities, nurse navigators can develop screening and prevention programs to better serve these populations.

Developing a lung cancer screening program involves a number of challenges, including identifying patients in need of screening, patient follow-up, and community support.
Sign Up for Free e-newsletters
Regimen and Drug Listings
GET FULL LISTINGS OF TREATMENT Regimens and Drug INFORMATION