Issues in Cancer Survivorship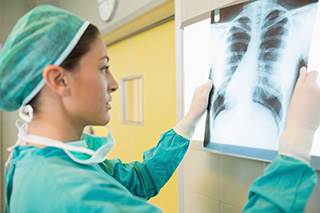 Hodgkin lymphoma survivors are at higher risk of second cancers, and that risk is even higher in those with a first-degree relative with cancer.

Painter and tattoo artist David Allen has used his skills to transform breasts scarred by surgical reconstruction into works of art.

A nurse develops a tablet app that helps intubated patients communicate with their nurses, caregivers, and families.

Recent studies indicate that adverse side effects can result from factors unrelated to the pharmacologic agent, but rather from other factors.

Lifestyle and dietary measures for preventing colorectal cancer are extensively studied; however, in this study, researchers looked at a dietary measure that improved survival for patients after diagnosis.

Cancer research relies of patients with cancer to participate in clinical trials. However, many patients cite various fears and misconceptions — some supported by physicians - as reasons for why they decline to participate in clinical trials.

A recent study confirms the benefits of marriage on patients with cancer, including socioeconomic status, psychosocial support, and a higher regard for health-related self care.
Site of metastasis is key to the length of time a patient can survive metastatic castration-resistant prostate cancer (mCRPC).

The Samfund is a not-for-profit organization dedicated to easing the lasting financial effects of cancer treatments for young adults with the disease.

As the American College of Surgeons' Commision on Cancer milestones approach, ASTRO publishes a template to ensure consistent, comprehensive survivorship care plans can be developed for cancer survivors whose treatment involved radiotherapy.
Sign Up for Free e-newsletters
Regimen and Drug Listings
GET FULL LISTINGS OF TREATMENT Regimens and Drug INFORMATION