April 09, 2015
MRI screening may identify high-risk pancreatic cancer
the ONA take:
MRI-based screening may be effective in identifying high-risk pancreatic cancer, according to a recent study published in JAMA Surgery.
Researchers led by Marco Del Chiaro, MD, PhD, of the Karolinska Institute in Stockholm looked at 40 patients (24 women, 16 men) who were at genetic risk of developing pancreatic cancer in order to determine short-term results of a MRI-based screening program.
Median follow-up was 12.9 months, and MRI screening was repeated after one year if initial screening was negative or at six months if findings were unspecific.
The researchers were able to find pancreatic lesions in 16 patients – 40 percent – with 14 who had intraductal papillary mucinous neoplasia and two who had pancreatic ductal adenocarcinoma.
"An MRI-based protocol for the surveillance of individuals at risk for developing pancreatic cancer seems to detect cancer or premalignant lesions with good accuracy," the authors concluded. "The exclusive use of MRI can reduce costs, increase availability and guarantee the safety of the individuals under surveillance compared with protocols that are based on more aggressive methods."
However, the authors emphasize that their study did not allow for evaluation of efficacy as single-screening modality, due to the small patient sample.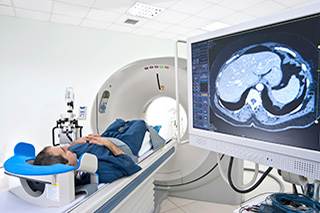 MRI-based screening may be effective in identifying high-risk pancreatic cancer.
A magnetic resonance imaging (MRI)-based screening program for individuals at high risk of
pancreatic cancer
identified pancreatic lesions in 16 of 40 (40 percent) of patients, of whom 5 five underwent surgery, according to a report published online by JAMA Surgery.
Loading links....
Sign Up for Free e-newsletters
Regimen and Drug Listings
GET FULL LISTINGS OF TREATMENT Regimens and Drug INFORMATION