September 04, 2015
Study Finds Increased Risk of MGUS in Vietnam Vets Exposed to Agent Orange
the ONA take:
Vietnam War veterans exposed to Agent Orange, an herbicidal agent used for warfare, have more than a 2-fold increased risk for monoclonal gammopathy of undetermined significance (MGUS), according to a new study published online ahead of print in JAMA Oncology.
MGUS is a precursor to multiple myeloma. Patients with MGUS have lower antibody levels, plasma cells in the bone marrow, and no symptoms. Therefore, no treatment is indicated for patients with MGUS, but patients should be followed up every 6 months to determine if MGUS has transformed into multiple myeloma or a similar lymphoproliferative disorder.
For the study, a team of researchers led by Ola Landgren, MD, PhD, of Memorial Sloan Kettering Cancer Center in New York analyzed samples from 958 male veterans of the Vietnam War. Half of those were Operation Ranch Hand veterans who participated in aerial Agent Orange spray missions.
"Our findings of increased MGUS risk among Ranch Hand veterans support an association between Agent Orange exposure and multiple myeloma," the study concludes.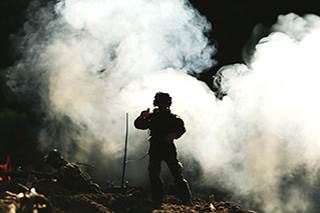 Agent Orange was widely used during the Vietnam War.
A study that used stored blood samples from U.S. Air Force personnel who conducted aerial herbicide spray missions of Agent Orange during the Vietnam war found a more than 2-fold increased risk of the precursor to multiple myeloma known as monoclonal gammopathy of undetermined significance (MGUS), according to an article published online by JAMA Oncology.
Loading links....
Sign Up for Free e-newsletters
Regimen and Drug Listings
GET FULL LISTINGS OF TREATMENT Regimens and Drug INFORMATION