August 17, 2017
Risk of Some Cancers Higher in Women With a History of Periodontal Disease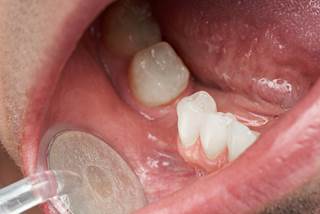 An increase in total cancer risk of 14% was seen in those with a history of periodontal disease.
Results of an important study demonstrated that women with a history of periodontal disease have a significantly higher risk of developing breast, gallbladder, esophageal, lung, or melanoma skin cancer compared with women who do not have a history of periodontal disease.1
A number of studies have investigated the connection between periodontal disease and incident cancer before this one, including some studies of site-specific cancers.2-4 Prior investigations have also explored hypotheses for the connection, such as infected saliva accumulating in the esophagus, colon, or even the lungs.1 However, this is the first large-scale study to investigate a connection between postmenopausal women, periodontal disease, and cancer risk. All participants were already enrolled in the Women's Health Initiative Observational Study (WHI-OS), the first national study involving US women and the first in older women. WHI-OS is an ongoing nationwide prospective study of risk factors for morbidity and mortality involving 93,976 women who were enrolled between 1994 and 1998 when they were ages 50 to 79 years. Annual follow-up data are collected via self-report.5
For this prospective study, researchers administered self-report follow-up surveys from 1999 through 2003. They tracked the participants for up to 15 years (mean follow-up, 8 years). Using the follow-up questionnaires, they evaluated cancer development in the participants through 2013.
Because the Year 5 follow-up questionnaire was specifically related to oral health and periodontal disease, it served as the baseline. Women who did not return that year's questionnaire or whose information was incomplete were excluded from this study. Other exclusion criteria included having a history of any invasive cancer prior to Year 5, missing follow-up information after Year 5, and missing information on smoking status. The final research cohort after exclusions included 65,869 postmenopausal women aged 54 to 86 years, of whom 7149 developed cancer during the 8-year follow-up period.