From CancerCare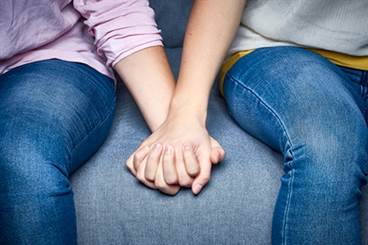 Marissa Fors, director of CancerCare's Susan G. Komen® Breast Care Helpline, talked with Dr Penelope Damaskos, of Memorial Sloan Kettering Cancer Center, about breast cancer risk and related challenges for women who identify as lesbian and their healthcare providers.

A cancer diagnosis can alter life plans for a young adult couple, completely upending their carefully thought out plans. Understanding their unique challenges can ensure oncology nurses are prepared to help these patients and their partners face an uncertain future.

Reintegration to the general environment, particularly to school, can be challenging for survivors of childhood cancers. This review discusses how adverse effects such as chemo brain may present extra challenges for these patients and what can be done to ease patients' anxiety.

Modern oncologic care entails actively pursuing treatment and cure; however, at the end of life, the ability to share silence may be the best treatment.

A cancer diagnosis is wrought with challenges for young adults. This article identifies the unique support needs for patients aged 20 to 39 years with cancer.

As the holidays approach, offering these SUPPORT tips can help caregivers of patients with cancer make the most of the seasonal activities and the time with their loved ones.

The transition from active treatment to survivorship for patients with breast cancer can be as complex as the disease. An oncology social worker discusses the challenges of this "new unknown" in the continuum of care.

Caregivers of patients with malignant brain tumors often bear additional burdens in their role, as these patients often experience cognition-related adverse effects as well as the effects of their cancer and its treatment.

Some patients undergoing radiation therapy may experience traumatic symptoms if they had a prior experience that triggered their "fight, flight, or freeze" response. Somatic experiencing may help these patients manage their symptoms during their radiation treatments.
A cancer diagnosis often further stigmatizes gay men, particularly those who have not revealed their sexual orientation to others. In this review, CancerCare's Bill Goeren discusses the psychosocial challenges inherent to cancer care for gay men.
Sign Up for Free e-newsletters
Regimen and Drug Listings
GET FULL LISTINGS OF TREATMENT Regimens and Drug INFORMATION