From CancerCare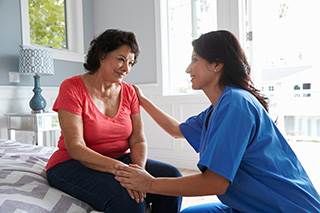 Culturally sensitive communications with Hispanic patients can help them understand their cancer diagnosis and treatment options.

Cancers that cause more readily noticeable physical changes can produce self-image challenges for patients. This discussion reviews what interventions can help validate patients' self-image concerns.

The decision to resume or begin dating after a cancer diagnosis can be particularly stressful.

Cognitive-behavioral therapy techniques can help patients with cancer turn their negative thoughts into positive attitudes, as well as find meaning and purpose to their life.

Serious mental illness can both challenge and compromise cancer care. To ensure these patients receive optimal cancer care, the oncology team should include the patient's mental health care team.

Accepting the need for counseling or support services may be difficult for many patients. Clinicians need to be attuned to specific clues during a first contact to make an accurate initial assessment.

The simple childhood pleasure of a coloring book and crayons—or colored pencils, as in this case—provide the foundation of a unique support group for patients with cancer and their families.

Each of these diagnoses has many implications for both nurses and patients. When combined, nurses need to anticipate that these patients may have greater psychosocial challenges.

Attending to a patient's spiritual needs is an important aspect of oncology care, but this can also be a challenging topic to broach. This guide helps nurses chart a course for this essential conversation.

Yoga is becoming an increasingly popular practice among patients with cancer, and for good reason. The practice helps patients cope with their disease and its treatment on many levels.
Cancer Fact Sheets
Sign Up for Free e-newsletters
Regimen and Drug Listings
GET FULL LISTINGS OF TREATMENT Regimens and Drug INFORMATION