November 22, 2017
Colorectal Cancer and Dietary Fiber: Source Is More Important Than Amount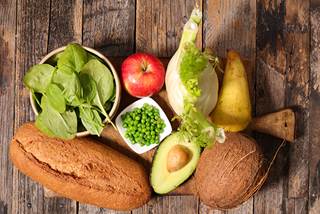 Increased fiber consumption was linked to increased CRC survival.
More Fiber = Lower Mortality
Each 5-gram increase in fiber intake per day reduced patients' risk of dying from CRC by 18% and their risk of dying from all causes by 14%. Results varied by fiber type, although the most beneficial sources of fiber in this study were cereals and whole grains.1 In fact, the researchers cited a prior meta-analysis of 25 prospective studies that showed each daily 10-gram increase in total and cereal fiber consumption correlated with a reduction in risk of developing CRC of approximately 10%.2 The current study also found that vegetable fiber was related to lower mortality from all causes, but no relationship to mortality from CRC was seen. Fiber from fruit showed no association with a reduction in mortality from either CRC or all causes.2
The researchers believe that theirs is the first prospective study examining the benefits of fiber intake among survivors of CRC, especially fiber from cereals and whole grains. They note prior evidence from animal studies that "high-fiber diets promote apoptosis and suppress colorectal tumor development."1 And, go on to explain that higher consumption of fiber, particularly fiber from cereals, is correlated with reduced inflammation and with improvements in endothelial function, lipid profiles, and insulin sensitivity. These are all emerging as markers of poor survival in CRC.1
Conclusion
The researchers call for more and larger studies and clinical trials on the significance of dietary fiber for survivors of CRC. They explain the importance of prior established trials showing that physical activity, marine omega-3 fatty acids, and increased supplementation of vitamin D all have beneficial effects on quality of life in CRC, even in metastatic disease. The researchers conclude that their findings "provide support for the nutritional recommendations of maintaining sufficient fiber intake among CRC survivors."1
References
1. Song M, Wu K, Meyerhardt JA, et al. Fiber intake and survival after colorectal cancer diagnosis [published online November 2, 2017]. JAMA Oncol. doi: 10.1001/jamaoncol.2017.3684
2. Aune D, Chan DS, Lau R, et al. Dietary fibre, whole grains, and risk of colorectal cancer: systematic review and dose-response meta-analysis of prospective studies.
BMJ.
2011;343:d6617.