January 26, 2017
Support Organization Rocks Age-Appropriate Cancer Care for AYA Patients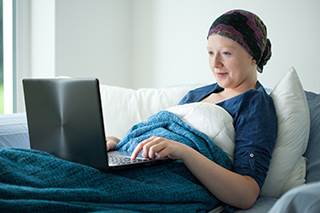 Younger people with cancer require additional support for their unique needs.
Raising Awareness and Funds
As befitting a charitable organization founded by giants of the music industry, music has an important role in fund raising events for Teen Cancer America. The Who regularly performs benefit concerts. An ongoing online auction of rock memorabilia offers fan memorabilia such as a concert poster for The Who signed by the band's members in 1968, the year the group was founded, and drumsticks used by Ringo Starr's son drummer Zak Starkey. Collectors might be interested in bidding on contemporary guitar picks custom designed for The Who, or guitar strings used by Pete Townshend on tour (and returned to their original package).
Sports celebrities also play a role in raising funds for Teen Cancer America. Currently a TCA ambassador, former basketball star Nolan Smith is running a Twitter and text fundraising campaign for TCA. Some examples:
Every team needs a strategy. Join #TeamNolan and @TeenCancerUSA to provide specialized #TREATMENT for teens who could use a hand!!
Text NOLAN to 20222 and $5 will go to support teens with cancer.2
Hernan Barangan, a young filmmaker and cancer survivor, recently traveled the country filming young people with cancer for an extraordinary film he coproduced with Teen Cancer America: Cancer Rebellion. The film really gives insight into the journeys of these brave young people.
Support and Services
Teen Cancer America has a comprehensive web site offering peer support in the form of patient blogs. Visitors can find ways to get involved and information on fundraisers such as concerts, races, and buying and selling through eBay. The site includes a tool for posting items to the auction on eBay and the stress-relieving coloring campaign "Color with Care." Finally, young patients with cancer and the people who care about them can access links to hospital partners, corporate sponsors, and other resources.
References
1. A snapshot of adolescent and young adult cancers. National Cancer Institute web site. https://www.cancer.gov/research/progress/snapshots/adolescent-young-adult. Accessed January 25, 2017.
2. Nolan Smith@NdotSmitty.
https://twitter.com/NdotSmitty
. Accessed January 25, 2017.