January 26, 2017
Support Organization Rocks Age-Appropriate Cancer Care for AYA Patients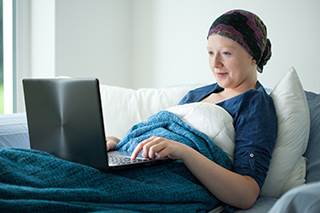 Younger people with cancer require additional support for their unique needs.
Support for Young Patients
Fortunately, there is an organization that helps teens and young adults with cancer make their lives better and more normal: Teen Cancer America (TCA). The nonprofit organization boasts 2 notable founders: Roger Daltrey and Pete Townshend of the lengendary British rock band The Who. Since its formation in 1964, The Who has not lost its popularity; its music is still relevant today. Roger Daltrey and Pete Townshend became involved with teen cancer awareness in 1990 as honorary patrons of the Teenage Cancer Trust in the United Kingdom.
The Teenage Cancer Trust provides inpatient and outpatient services for young people ages 13 to 24 years who are coping with cancer. The trust is responsible for the design and creation of 28 specialized patient units in National Health Service hospitals. Their goal is to ensure that physicians, nurses, and other staff who specialize in treating young patients with cancer do so in a familiar and friendly environment.
Following the successful formula of the Teenage Cancer Trust, Teen Cancer America was developed in cooperation with more than 50 hospital partners established or pending throughout the United States. Roger Daltrey, Pete Townshend, along with Robert Plant, of the rock band Led Zeppelin, are sponsors of the programs located at some of the United States' most prestigious medical institutions (Table 2).
TABLE 2. Cancer Centers With Sponsored Programs

Children's Hospital of Philadelphia (CHOP)
Dana-Farber Cancer Institute
Fort Worth AYA Oncology Coalition
Memorial Sloan Kettering Cancer Center
Moffitt Cancer Center
Stanford Children's Health and Stanford Health Care
UCLA
University Hospital Case Medical Center Rainbow Babies & Children's Hospital and UH Seidman Cancer Center
The University of Chicago Medicine
Vanderbilt University Medical Center
Yale New Haven Hospital
Teen Cancer America works with oncology care teams to create environments — physical, psychological, and medical — for patients who are neither children nor adults. Even in the finest cancer institutions, these young patients deserve their own treatment in their own space. The physical areas are specialized units designed to appeal to teens.
The units are centered around a teen lounge, supplied with computers, games, and guitars and other music-related equipment, and equipped with comfortable, colorful furniture that invites young patients to hang out and socialize. Meeting other people their age is an important part of the TCA experience, and the lounge is a good place to do it. Patients say it is perfect for hanging out and feeling normal. Part of feeling normal is listening to music like any other teenager, and this is a hospital space where that is encouraged. No nurse is going to come running in to hush up the listener.